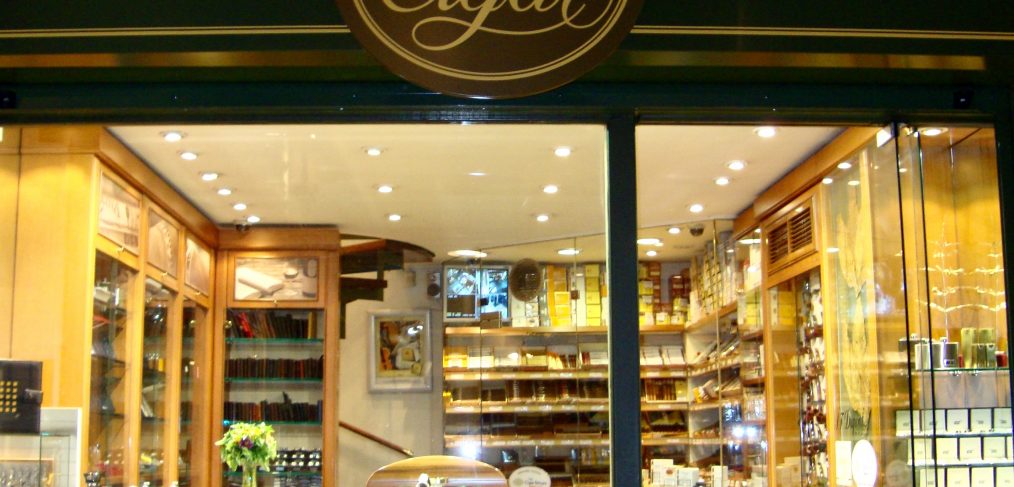 Athens, the oldest cigar shop in town
Still seen until very recently as the European Union's poor suburb, Greece – and Athens in particular – conveys a different image now. A new wind is blowing in the capital, and in the shadow of the Acropolis, the aficionados are all epicureans.
You have to face reality: On the one hand, the minimum wage is around €800, unemployment is at more than 25%*, there are high levels of emigration to other European countries; but on the other hand, consumption is growing constantly, the locals have a tremendous thirst for life, and the mentalities are both nationalistic and anti-establishment, creative and traditional. In short, now more than ever, Athens is the capital of paradoxes; bittersweet but undeniably captivating and loveable.
Ashtrays die hard
Although, smoking has been banned in public places since 2002, just like in the rest of Europe; and despite the fact that VAT on tobacco was increased in 2010 from 75% to more than 80%** of the retail price, you still see ashtrays in restaurants. The tables outside on Kolonaki square (the equivalent of Paris's Triangle d'Or) are always packed. The clientele includes smokers, including quite a few cigar-lovers. The crisis is real, but its impact on people's daily lives is practically imperceptible. It seems as though nothing can affect the Greek people and stop them from making the most of life. Despite appearances – and circumstances – it's always a good time to enjoy a cigar and an espresso with friends and put the world to rights.
The "Greek way of life"
On street corners, the periptera – those little kiosks that sell just about anything – overflow with (mainly machine-rolled) cigars. 10 meters down the road from one of them, on avenue Kanari, we pay a visit to The Cigar, the oldest cigar shop in Athens. Cigar in mouth, the owner, Yorgos, tells us all about the "Greek way of life."
Five questions for… Yorgos
The International Amateur De Cigare: Tell us about your shop.
Yorgos: We opened in 1998. Others opened at the same time as us but have since closed. There must be about ten cigar shops in Athens, but we are the oldest one now. We sell around 30 different premium cigar brands and a lot of cigarillos. Our best-sellers are mostly Cubans; Cohibas, Partagas, Romeo Y Julieta, Davidoff… As well as those, we also sell quite a lot of Greek cigars. We pay less tax on them, so they have the advantage of being more affordable.
The IADC: What are the locals' smoking habits?
Yorgos: It's always sunny in Athens, so you can sit down and enjoy a cigar anytime and anywhere! There is really only one place devoted to cigars – a single smoking lounge – at hotel Grande Bretagne, which has mainly international guests who are here for business.
The Greek economy was booming in the 80s and 90s – a lot of people made a fortune and got used to enjoying life al fresco. Cigars became very popular at that time, and many of those people are still our clients.
The IADC: So tell us about your clients.
Yorgos: We are based in downtown Athens, in the business district, right next to the Presidential Palace. A lot of politicians, actors, and artists come in. More generally, our youngest customers are around 17 years old. Young people try cigars when they start going out to clubs in Athens. Our cigars start at 1 euro, so anyone can find something they can afford. At the other end of the scale, we also have far more mature customers; cigar connoisseurs who are not interested in showing off.
The IADC: What do you drink with cigars in Athens?
Yorgos: Whisky, wine, vodka… but mostly coffee. You see locals enjoying a coffee and a cigar with friends outside at any time of day.
The IADC: Did the financial crisis have a negative effect on the cigar business?
Yorgos: Of course. Sales didn't fall in volume, but smokers are buying cheaper cigars. That said, despite the crisis, most of our customers are rich and that hasn't changed. You know, the Greeks are naturally optimistic and cheerful. The crisis is still affecting us, but you wouldn't know it to look at us. That's how we try to survive. To be perfectly honest, the situation is nowhere near as bad as the media make out.
The Cigar, 21 avenue Kanari, 106 73 Athens. www.the-cigar.gr
Opening hours: Monday, Tuesday, and Saturday, from 9 am to 5 pm / Wednesday, Thursday, Friday, and Sunday from 9 am to 9 pm.