BREAKING – Our exclusive news on the buyer of the €4.2 million Cohiba humidor
According to our sources, the buyer of the Cohiba humidor, whose sale set a new record last night during the closing party of the 23rd Festival del Habano, is one of the main shareholders of Habanos S.A., via the Allied group, owner of 50% of the shares of the Havana-based company.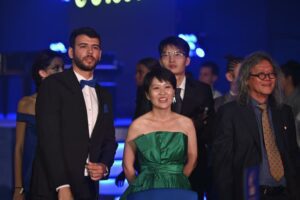 This Chinese businessman based in Laos was represented by his personal assistant (in green in the photo), herself advised by Jimmy Ng (on the right), who had won the auction of a previous Cohiba humidor sold during the brand's 55th anniversary in September 2022.
Still according to our sources, Jimmy Ng was already acting on behalf of this Chinese businessman at that time.
Laurent Mimouni, special correspondant in Havana
Photos: Luc Monnet