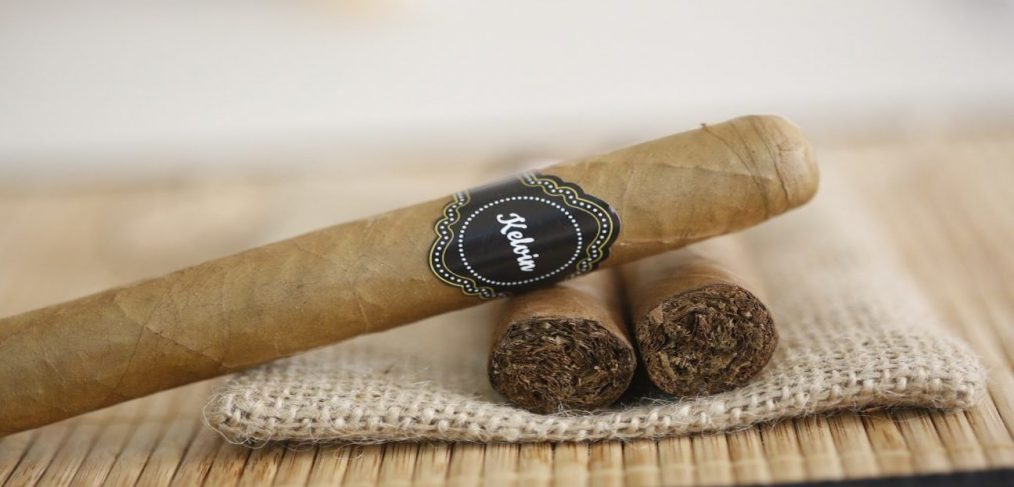 It's a boy !
After baby showers, smoking and offering custom cigars for the birth of a child is the new trend…
by Armelle Vincent
The founder and owner of Victory Cigars, Harold Nathan, got the idea of producing and selling custom cigars in 1998. A consumate cigar aficionado, this resident of Seattle –said to have the most impressive collection of antique Habanos in the world- wanted to thank his customers by giving them stogies. At the time, he owned a luggage company and decided to kill two birds with one stone: he could show himself to be generous with his customers while promoting his business at the same time by putting his brand name on the rings. Alas, after buying his first custom cigars, he found that if the rings looked nice and fancy, their content wasn't. The cigars were of a mediocre quality. "I realized that a great opportunity presented itself to me: I could produce the cigars myself by launching my own custom cigars company. Even though customers were more interested in the rings than the stogies, I figured I could try to educate them on cigars. So I did".
For a long time, it was customary for new fathers to hand out cigars to their friends and family while their wives were giving birth in another room. Smoking helped them deal with their feelings of helplessness. The tradition is rumored to have begun with Indigenous people of North America who would mark occasions like a birth with a feast of gift-giving. Called a 'potlatch', the ceremony consisted of smoking a primitive version of a cigar, that is, rolled tobacco leaves forming a bundle. When women started giving birth in hospitals, the cigars followed them to the waiting rooms until anti-smoking laws became the norm. The tradition started dying a long death.
But it is experiencing a rebirth, though under a different form. The cigars are now smoked after the birth, at home. Unless they are given as a gift by the new dad in boxes bearing the names of their newborn –if it was decided before the birth- or the announcement "It's a boy!"/"It's a girl!". The concept appeared in 1953 in a General Cigars office. Instantly successful, it then spread to the competition. Says the marketing director of Altadis USA Janelle Rosenfeld: "Today, many of us are returning to familiar traditions, especially the tradition of gifting a cigar to friends at the birth of a baby."
If anti-smoking laws have translated into a 75% drop in its revenues, Victory Cigars has kept his rank at the #1 custom cigars company in the US, with a customer base of 20 000. "We ship our cigars to any country permitted by the law", explains Nathan. The company first specialized in the production of rings. To be able to offer a fast turn around, Harold Nathan acquired the necessary equipment and installed it in his home. His aficionado credentials allowed him to select good Dominican cigars to 'fill' his custom rings. As his customers grew in prestige and numbers, he started offering them better cigars. Before long, he became part owner of a manufacture in Temboril (Dominican Republic). He had finally fulfilled his dream of producing Premium cigars (Cubano Piloto Lijero and Seco for the binder, Olor Dominicano for the filler, Sumatra for the wrapper). He sells them in cedar boxes of 25 for a price range going from $80 to $180. "One of our best assets is to be able to deliver our cigars in a very short time frame thanks to the fact that we have all the equipment necessary to do it here, in Seattle".
Victory Cigars produces cigars for any kind of events such as births, weddings, conferences, trade shows, as well as the promotion of various types of businesses: restaurants, hotels, car dealerships, watch makers, etc. His customers are called Rolls Royce, Jay-Z, the Ritz Carlton, to name just a few.
Aware of its success, other entrepreneurs soon followed suit and innovated. The Mendler brothers and their sister Rachel are a good example of this relatively new trend in the industry. In 2013, they started Custom Tobacco in Los Angeles, and based it on a new concept. Not only would they offer custom rings, but thanks to a new tool, they would have their customers design their rings online, thus turning them into truly unique items. Says Rachel: "Our other particularity is to allow our customers to also make their own cigars. They get to choose the wrappers, binders and fillers. We have ten different types of cigars and they come in three sizes. We are the only ones in the industry to offer such a feature. We have our own brand, Briarmont, and work with Nicaraguan and Dominican producers. We only offer Premium cigars. Their prices go from $7.99 to $24.99 for a box of ten cigars, the minimum order".
Unlike Victory Cigars, Custom Tobacco didn't suffer from the anti-smoking laws because its customers are people essentially smoking in private places like homes. It is the same for Custom Cigars, an Orleans Group International subsidiary also specialized in Custom cigars. "It is a very prosperous side of the industry", concludes its general manager Brandi Combs. Cigars tend to represent happy or important moments and those moments are generally celebrated privately".