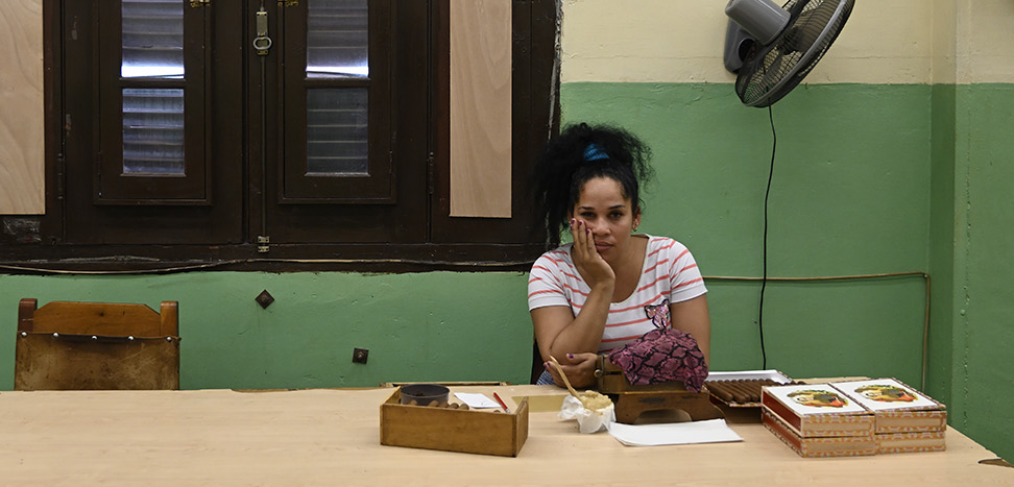 Report on the shortage of Cuban cigars
Strong demand brought on by the "lockdown effect", combined with a slowdown of production in Cuba and logistic problems caused by Covid-19 mean that tobacconists' shelves are looking bare. Habanos S.A. calls for patience.
The first to sound the alarm was 5th Avenue Trading, the exclusive importer of Cuban cigars for Germany, Austria, and Poland. When it published its annual results back in January, the distributor already noted that "although Cohibas, large cigars, and limited editions have become increasingly difficult to find over the last few years, stockouts on the standard range are now also becoming more common." Less loquacious now, the German group carefully referred us to Habanos S.A. when we ask for explanations about this unprecedented situation. But the observations made at the start of the year still hold true for the majority of European countries.
"90% of the Cuban catalogue is out of stock," the owner of one of the largest tobacconists in Paris told us. "For the remaining 10%, you can get deliveries every day if you want, but essentially small formats – smaller than the robusto. There are no robustos or anything larger than that."
The situation is affecting every market to varying degrees, in particular the more mature markets in Western Europe, where Cuban cigars are most popular. "There has been a shortage in supply for premium cigars (Behike, limited editions, etc.) for several years," explains Nicky Meire, the marketing director of Cubacigar, the importer for Benelux. "But this year, shortages are also sometimes affecting standards, like the Partagás D4 or P2, and all robustos more generally. We even sometimes run out of José L. Piedras or Quinteros! Deliveries still arrive on a regular basis; we receive cigars – just not enough of them." The president of Italian importer, Diadema, Andrea Vicenzi concurs: "There are issues on all types of products, but shortages are more frequent on large formats." "I think the word 'shortage' is a bit strong," counters Juan Giron, the communication manager of Spanish importer, Tabacalera. "But we do occasionally run out of stock on certain lines, which obviously represents an inconvenience for our customers."
Under-production and logistic problems
Several factors have coalesced over the last few months for us to reach this point. First of all, for several years now, there have been difficulties at agricultural and "pre-industrial" level (drying and fermentation) getting sufficient quantities of the large wrappers that are needed to craft the largest and most attractive cigars. Habanos S.A. and its Cuban operational wing, Tabacuba, have therefore been suffering from under-production issues on big cigars (double corona, churchill, salomones, etc.) for several years.
This situation, which predates Covid-19, has been exacerbated by disruptions to long-distance transportation and supply chains caused by the pandemic, which have still not been completely resolved. Air traffic is still operating at approximately 50% of its pre-Covid capacity. In these conditions, air freight is still a rare (and expensive) commodity, and whatever cigar lovers may believe, when a freight forwarder has to choose between several types of cargo, cigars are not considered priority goods.
And finally, there is the pandemic situation in Cuba. It is true that fewer factories closed in Cuba than in other cigar-producing countries, but the big La Corona factory in Havana has been closed for two months for health reasons. Viewed as fundamental for Cuba's economy, the tobacco industry has been exempted from the lockdown measures imposed on the island; strict hygiene and social distancing measures were quickly implemented in all factories as of March 2020, and they stayed open for business. But production is still disrupted, not to say seriously hampered. Schools are still closed in Cuba, which means that part of the workforce has to stay home to look after their children. The confined spaces in certain factories (like in El Laguito, where most Cohiba products are made) does not allow for distancing while maintaining the same level of output (only one in two workstations are occupied in production areas) – even by rotating teams and getting rollers to work on Saturdays – which is now the rule in the majority of Havana's biggest factories. And whereas Cuba was mostly spared by the first wave of the pandemic in the spring of 2020, the number of positive cases has been growing since the start of the year, forcing the authorities to take strict preventive measures, including in factories. "When a positive case is identified in a galera, four lines around the infected individual – that's 25 rollers – are immediately sent home to isolate for one week," explains Nicky Meire, who recently returned from a trip to Cuba. Off the record, another expert on these issues admitted that "in 2020, Tabacuba met 70 or 80% of its production targets [90 million units according to ADC's information]. But since January 2021, rolling workshops have been at 50% capacity or less." And rollers aren't the only ones affected; the same type of issues present themselves at every stage of production (boxing, adding the band, packaging, etc.). "The cigar is an artisan product," explains Juan Giron. "This is not an industry where you can increase output at the push of a button."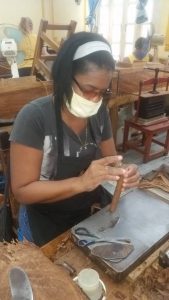 At El Laguito, like in every other cigar factories, one in two workstations is occupied (photo : DR)
Increased demand
Several factors are thus interacting to compress supply at a time when demand has rarely been so high. Of course, the duty-free market, and sales related to tourism (Cuba, Latin America, Middle East) are practically nil. But Europe, which still represents 60% of Cuban cigar sales worldwide, has seen demand for puros increase due to the effect of successive lockdowns; stuck at home for several weeks, Western cigar lovers have increased their cigar consumption. Importers don't all report their turnover, but 5th Avenue (Germany, Austria, Poland), for example, posted record sales in 2020 – up 27% compared to the previous year. And this trend shows no signs of letting up in 2021. In regions where the distributor and/or tobacconists have stocks, the situation remains manageable, notwithstanding stockouts on certain lines. "It hasn't affected our turnover yet, because we can dig into our stock," explains Andrea Vicenzi for Italy. "But we may feel the effect more strongly in the coming months." "A few years back, we took the position of keeping a year's stock of all lines, in our main bonded warehouse," relates Jimmy McGhee, communication manager for Hunters & Frankau, the exclusive importer of Cuban cigars to the United Kingdom. "This policy may have preserved the British market to a certain extent."
Rumors… and a run on cigars
However, on markets where supply is more strained – like in France, Benelux, Switzerland, and Spain – the equation is easy to understand. With an increase in demand, a decline in supply, and limited stocks, tobacconists' shelves are now looking bare. And as often happens in such situations, the shortage is self-perpetuating; seeing that retailers are less well-stocked than usual, cigar lovers (and indeed the retailers themselves) rush to buy products as soon as they appear or reappear on the market – and people stockpile. That's what happened with Por Larrañaga's Galanes, launched just a few weeks ago in France with good levels of stocks, but which has already sold out in most retailers.
The shortage also enables all sorts of rumors to spread. The most popular one at the moment – with its undertones of the "yellow peril" – is that the Chinese are buying up all the stocks. Although it is true that the new joint shareholder of Habanos S.A. (50-50 with the Cuban state) is a mysterious consortium registered in Hong Kong, we have no idea of how it is made up. It is also true that Habanos S.A. announced a 15% increase in sales on the domestic Chinese market in 2020 – but that increase only represents a few hundred thousand cigars and would not be enough to cause a shortage on other markets. And finally, it is certainly also true that some tobacconists in Paris, on the French Riviera, in Switzerland, and in Benelux are regularly visited by Chinese buyers with wads of banknotes ready to relieve them all their Behikes, the best Cohibas, and their limited-edition cigars or special boxes (jars, etc.) – but this doesn't explain the shortages on a great number of less prestigious cigars. A simpler explanation – the concomitant deregulation of supply and demand – is certainly the correct one, as detailed by Habanos S.A.'s communication department: "Covid has affected supply chains (availability of sea and air transportation) and, consequently, caused delays in deliveries." Tabacuba, meanwhile, which manages agricultural and industrial processes, points out that "Covid and the American embargo have not allowed us to reach adequate levels of production."
An imminent return to normal?
"We will never sacrifice the quality of our cigars to meet demand," continues the group's spokesperson, in answer to L'Amateur's questions. "Because we know that when our aficionados smoke a habano, they are looking for a unique, high-quality experience, and our main objective is to give them that experience. We are convinced that once the global situation has returned to normal, supply will become more stable."
"Of course, we would love to be able to supply the whole catalogue," acknowledges Juan Giron, "but I insist on the fact that there are many alternatives that enable us to provide solutions so consumers can continue to enjoy Cuban cigars, at least until we return to levels of supply that are more in line with demand." But the alternative is sometimes also to look to… other cigar-producing countries. Space inside small retailers' humidors doesn't come cheap, and missing habanos run the risk of being replaced (permanently?) by other products. A European importer that also distributes Vega Fina has seen demand for the Dominican brand double concurrently with the dwindling supply of Cuban cigars. It didn't take him long to work out that the competition is benefiting proportionally from the shortage of habanos.
"There have always been times when similar situations have occurred in the past, due to an increase in demand, because of the issues related to the products' artisan nature, or due to delayed launches; things always go back to normal," Juan Giron reminds us.
"A fall in production levels and logistic problems have led to markedly smaller deliveries than expected, and a significant number of lines have had delayed deliveries, to which one can add the usual constraints of a 100% natural, artisan, agricultural product," explains French importer Coprova. "Prestigious brands and premium cigars are most strongly affected, even if France remains one of the markets with the greatest diversity of Habanos products in their catalogue."
We therefore encourage aficionados to open their horizons. Even if you limit yourself to the Cuban catalogue, this is an opportunity to discover brands or formats that you never smoke. And have patience; recent reports on the effectiveness of the Cuban vaccine candidate gives us cause to be optimistic about a return to normal for Cuba in the coming months. And try to be philosophical about it, like Jimmy McGhee (Hunters & Frankau): "I have been working in the cigar business for more than 20 years, and I still don't know what a 'normal' situation is."
Laurent Mimouni
---
 Opening picture : © Luc Monnet