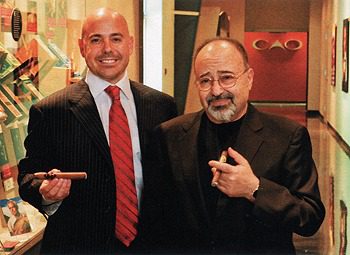 CAO: the birth of a brand
In 1968, Istanbul-born engineer, Cano Aret Ozgener, set up shop in the family garage in Nashville, creating a little company that sold meerschaum and briar pipes and humidors. For the company name, he used his initials: CAO.
In 1995, the company decided to cash in on the cigar boom in the U.S. by moving into cigar production, bringing Cano's daughter and son along for the ride. The first CAOs, rolled in Honduras and Nicaragua by Néstor Plasencia, arrived in American shops in 1997. The brand soon built a following: over 8 million CAO cigars were produced in 2005 and sold in 70 countries.
Cano retired in 2007, but his inventive brand, boldly introducing ranges made with Brazilian and Italian tobacco, was starting to garner interest from the cigar industry, and more specifically, the Dutch group Scandinavian Tobacco (STG).
CAO OSA, masterminded by Rick Rodriguez
"It's important for our company to know all the characteristics of the places where it cultivates tobacco to avoid imposing systems that would go against local tradition. We are not McDonald's: for us, it's a question of cultural heritage, know-how and singularity," explains CAO's Master Blender, Rick Rodriguez. He learned the art of blending in the Dominican Republic, working alongside Benji Menéndez for five years.
For his first blend, he had a stroke of genius: the CAO OSA range. Always in search of new tobaccos, in 2008 he stumbled across a wrapper from a plantation in San Agustin, in the Honduran province of Olancho, and it was love at first sight. "After trying a few samples, we realized that we could use this wrapper to make a highly fragrant, powerful cigar," he remembers. "But first, we had to find a home for this cigar, that is to say make room for it in our factory in Nicaragua. It took two years before we were ready to start production."
These new Nicaraguan-Honduran blend cigars were christened CAO OSA SOL, three cryptic-looking acronyms with simple explanations: formed by the initials of the founder Cano, followed by those of the famous Olancho San Agustín plantation and those of the growing method used for the wrapper leaves (Sun Grown Leaf). Next to be released were the famous Pilon cigars, named after their method of fermentation.