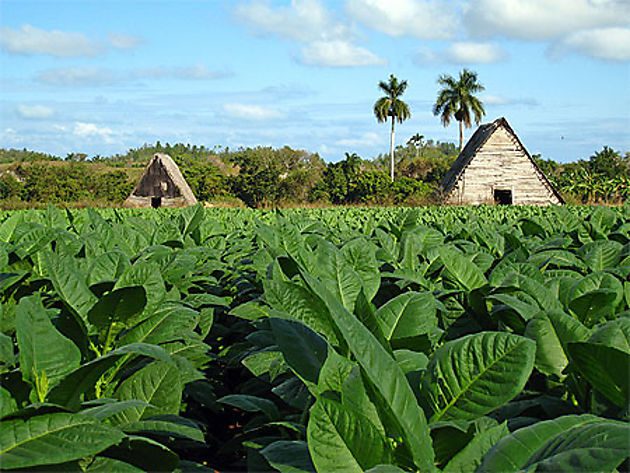 Cuba: What can we expect from this year's harvest?
Favorable weather conditions and a disease-resistant tobacco variety… Everything you need to know about the 2016-2017 harvest in Cuba…
It appears that there will be a good harvest this year, breaking a negative cycle that has lasted four years and adversely affected wrapper leaves in particular. The meteorological conditions have been good with less rainfall than in previous years. Many vegueros have also been cultivating a new variety, called corojo 2012, developed by the Institute of Tobacco, which seems to be more resistant to disease than other varieties, especially root rot due to excess water.
As a result, Francisco Prieto's leaves were looking good when we visited him in March in San Luis, Vuelta Abajo. On his four-hectare farm, Francisco, 42, cultivates binder and filler leaves in the open air. The wrappers, sheltered under tapados that we can see at the end of his fields in the distance, are cultivated by his brother, Hector Luis, one of Cuba's most celebrated vegueros. Planted in January, having already been relieved of their lower leaves, the plants still had a very thick, lush crown of oily leaves. Their color was a deep yet pale green, the like of which we had not seen in the region for a while.
If this good first impression is confirmed, this year's harvest should be better in terms of quantity and quality. Would this also mark the end of the shortage (of Cohiba among others) that aficionados have suffered? Not according to sources close to Habanos SA's management. A significant proportion of production is siphoned off to the black market, which is a profitable market for everyone – farmers, shops and factories alike – as well as appealing to aficionados visiting Cuba who can, for example, buy a Behike 54 for 12 CUC. So exactly how much of the country's output goes to this parallel market? Difficult to estimate, even if according to some sources it could be as much as 20%…