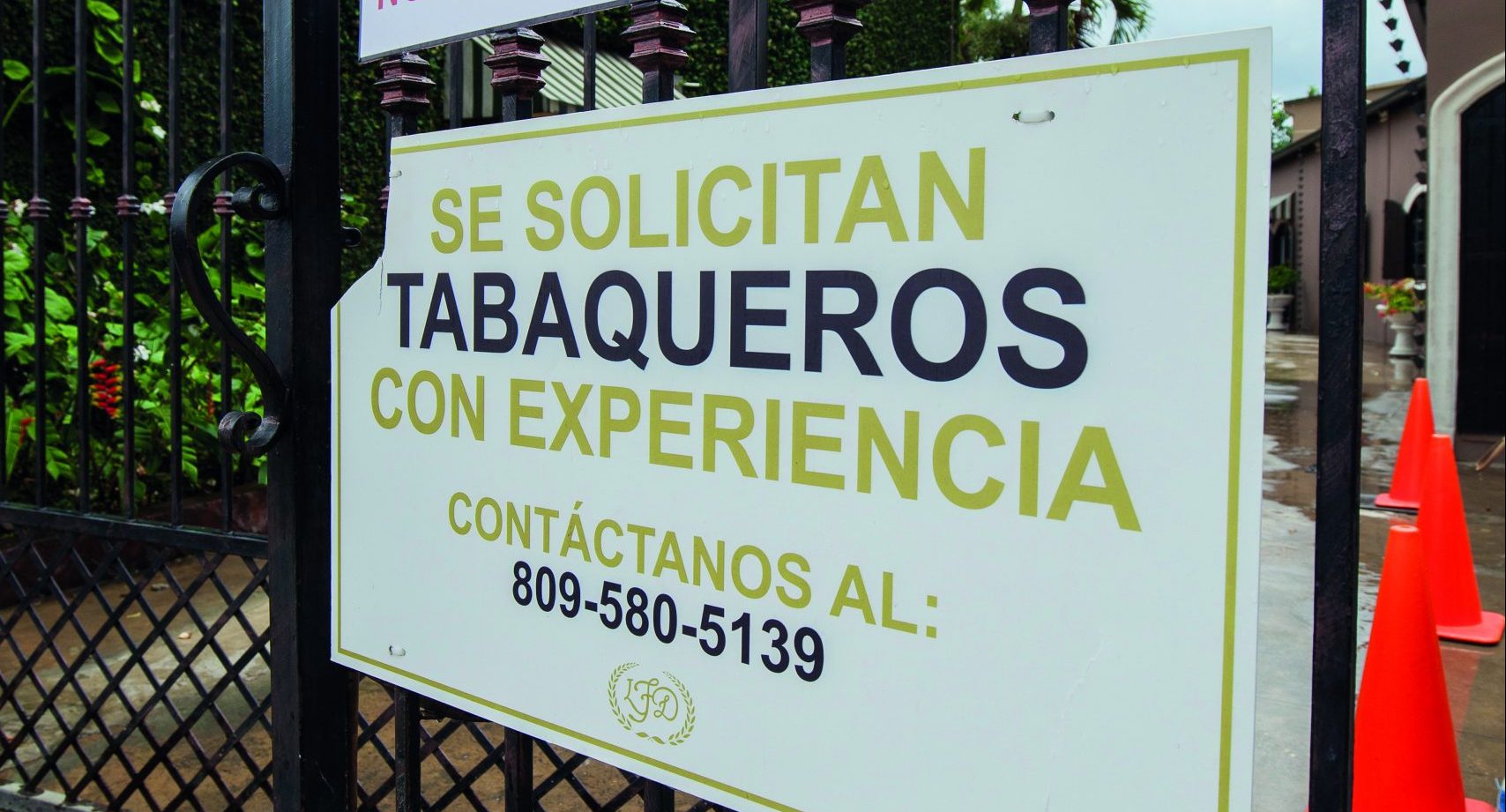 Dominican Republic: Desperately Seeking Tabaqueros
With the sudden spike in demand since the first months of the pandemic (see ADC English Edition #1), Dominican factories are under intense demand pressure, including as regards labor. Anything goes to attract workers and meet production targets.
Daniela Cruz Gil, our correspondent in Santiago de los Caballeros (Dominican Republic)
"We are looking for tabaqueros (cigar makers)." Such signs can be seen outside most factories in the province of Santiago, particularly in Tamboril, an area known for its large numbers of farms, factories and cigar industry workers.
The search for employees has taken an even more aggressive turn over the last few weeks, with advertising buses fitted with loudspeakers driving around offering work. "They do that from 4 PM onwards," explains Gregory Leonel López, Packaging Manager at MJ Cigars, a small factory with 38 employees that produces 200,000 cigars per month in Tamboril's Calle Real. "By that time, factory employees are back home, so they can hear the messages." The announcements don't mention the salary, but they invite tabaqueros to contact companies that are looking for worker, that is to say most of them. MJ Cigars is no exception in suffering from the shortage of labor since the end of 2020; employees are instructed to make it known that the company is hiring. "With or without experience," adds Lopez. "We are looking for employees to work in packaging, stemming, and sorting tobacco. If you have a little experience, you're really in demand at the moment!" The young man also points out that it's harder for smaller factories, because they can't compete with their larger competitors in terms of wages, working hours and benefits.
"If you have a little experience, you're really in demand at the moment!"
Although this is not the first boom that the Dominican tobacco industry has known, this time the difficulties are being exacerbated by the pandemic.
The President of General Cigar (Macanudo, Don Tomás, STG Group), Régis Broersma, explains that strong demand has driven his group to hire more than 700 tabaqueros for all its factories around the continent – in Honduras, Nicaragua, and of course, the Dominican Republic. This recruitment drive concerns both experienced workers and novices, who are often recruited in the neighborhoods surrounding the factories before being trained. According to Broersma, none of his employees have succumbed to the siren song of competition, because the company can offer competitive wages and has set up benefits programs for its employees and local communities, which results in good employee loyalty and limits turnover.
VP of Production at Davidoff, Hamlet Espinal, tells a similar story. The Swiss group has regularly hired new staff to meet the rise in demand since last year. To meet this demand for skilled labor, Tabadom – a school with a great reputation around the country – is an excellent training facility that complements training organized by the National Institute of Tobacco (Intabaco). The director also claims that the few resignations of Davidoff employees over the last few months are not due to the competition but rather emigration.
The oldest Dominican factory, La Aurora, is also suffering from the shortage of labor. "The people we hire without experience receive training at Intabaco," admits the Director of Marketing and Sales, Iturbides Zaldívar. "Intabaco has trained two groups of 20 tabaqueros for us so far, and more training sessions are planned in the coming months."
The situation is different at Tabacalera de Garcia, however, the largest factory in the world, which rolls VegaFina cigars, among others. Director of Operations, Regine Wolfgramm, explains that the number of employees – currently 5,700 people – continues to rise consistently in line with demand. "The recruitment process includes a training program that lasts three to nine months, depending on the area". As the only factory located in La Romana (in the south of the country), Tabacalera de Garcia claims to have not lost a single employee to its competitors.
Despite the signs – "Se buscan tabaqueros" (we are looking for cigar makers) – that can be seen outside their factories, Quesada Cigars and La Flor Dominicana preferred not to answer our questions, likewise for De los Reyes Cigars and Arturo Fuente.
140 hours of training
Intobacco's Technical Director, Luis Tejeda, says that the Institute has trained 300 people since August 2020. These new tabaqueros were immediately snapped up by Tabadom Holding Inc. (Davidoff), Tabacalera La Alianza, General Cigar, La Flor Dominicana and La Aurora, AMBAM Cigars, and Vega del Rey.
The course, named "Lessons on making cigars", lasts 140 hours. "That's how long it takes to learn to make a premium cigar," according to Luis Tejeda, who adds that these training sessions will continue to support the tobacco industry and that Intobacco is in constant communication with Procigar, the federation of the country's biggest cigar manufacturers, to keep up to speed with the needs of the industry.
Other difficulties
But the pandemic has revealed other issues too. General Cigar has managed to cope with the increase in delivery costs, the shortage of containers and the shortage of wrapper leaves, thanks to its good relations with suppliers and by negotiating longer transportation lead-times. "Our Covid-19 protocol is very strict, and that generates additional costs and requires us to closely monitor the supply chain to reduce delays," explains Régis Broersma. Davidoff, meanwhile, is concerned about the effect of the pandemic on tourism – an important segment for the brand.  "We estimate that we will have to wait until 2024 for air traffic to return to pre-pandemic levels," believes Hamlet Espinal. For La Aurora, production is further complicated by an increase in raw materials prices, including that of raw tobacco.
In any case, far from being viewed as bad news, the shortage of tabaqueros is a reminder to everyone that you need people to make the great Dominican cigars that are so popular around the world. As Gregory Leonel López says, "when there is a lot of demand, and companies are looking for workers, that represents progress for the country and for us!"
Photo (© Manuel Feliz) :
"We are looking for tabaqueros," says a sign outside La Flor Dominicana, like most factories in the country.
This article is taken from L'Amateur de Cigare English Edition n ° 4.