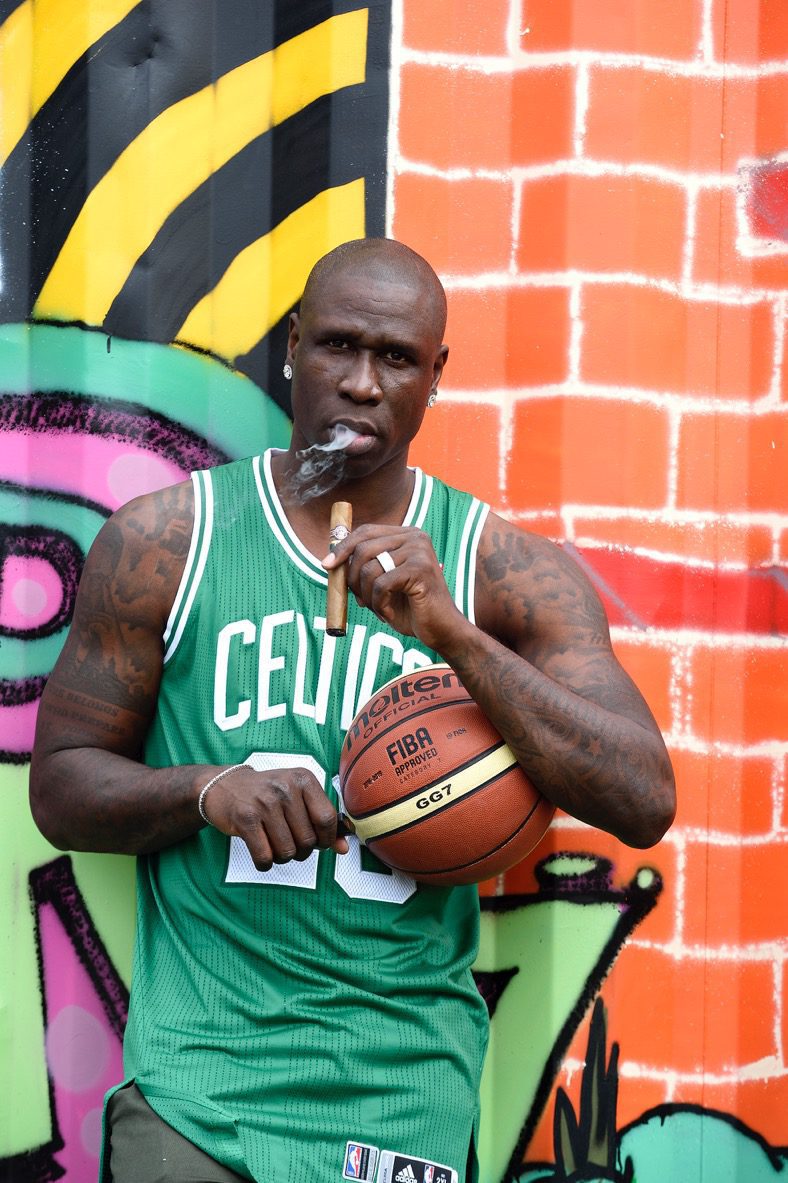 Mickaël Pietrus, premium smoker !
After eleven NBA seasons, the basketball player tells us about his love for cigars and debunks a few myths, such as the idea that enjoying a good corona is incompatible with being a world-class sportsman.
By Jean-Pierre Saccani
There aren't many top-flight athletes who smoke, and those who do aren't keen to talk about it. Mickaël Piétrus is the exception that proves the rule. We caught up with him in Gironde, southwestern France, where he settled after returning from his eleven NBA seasons in the US with the Golden State Warriors and Orlando Magic, among others. This 6'6" basketball player – his tattoos forming a narrative of his highs and lows – takes a moment between two workouts to discuss his passion for cigars.
From childhood in Guadeloupe to the Holy Grail of basketball
"The first time I ever came across a cigar was as a kid in Guadeloupe. A Cuban torcedor was rolling one and he asked if I wanted to try it. I thought it was great fun but there was no way I could bring it home – my grandma would be awake, and smoking was totally forbidden in our house!" Mickaël was only nine when he lost his mother, so he and his six siblings were brought up by their rather strict grandparents. From a tender age Mickaël already dreamed of basketball, but he got a good beating from his grandfather when he was caught watching the NBA playoffs on Channel 10, where the American championship was broadcast at that time. Undeterred, young Mickaël saw his passion win out in 1998, when at the age of 16 he waved goodbye to his native island to sign up with the Pau-Lacq-Orthez training center run by one of France's top teams. Three years later he scooped the first of his two French championship titles, and two years after that he was signed by San Francisco's Golden State Warriors in his first NBA contract – the Holy Grail for any professional basketball player.
Smoking like a boss
Cigar smoking had not yet become part of his lifestyle, although he could already feel the draw in 2010. As he and his family (he has two children) set off on holiday to the Seychelles after a busy season, he bought "a box of Cohiba Black decorated with a golden band, Maduro 5 Genios." Piétrus picks up the story with a smile: "One morning, around nine o'clock, I tried to smoke one – like a boss, as they say. It gave me a powerful migraine but I wasn't put off, I was determined to get to like cigars." In fact, it had the reverse effect as Mickaël decided to "invest some time in learning all about cigars – how they are made and the best ways of appreciating them." At the time he was playing in Orlando, where he became only the second French player to compete in a NBA final.
 Michael Jordan – a cigar before every game
It was also in Florida that he met José Padrón, who initiated him to the secrets of a good cigar. "I was so lucky," sighs the basketball player, lighting his second cigar of the afternoon out on the terrace. "I knew that many of my peers in the NBA smoked, including my childhood hero Michael Jordan, whose games I used to try and catch as often as possible on TV in Guadeloupe" (with sometimes heavy consequences, as we mentioned earlier). "When I finally met him in the States, he admitted that he smoked a cigar before every game, but he couldn't have known how many beatings I'd taken for watching him play!"
Coach Don Nelson's cigars
It was when Mickaël signed to the Boston Celtics that his appreciation for cigars grew into a real passion. The legendary team was coached by equally legendary coach Don Nelson (NBA all-time wins record-holder), who had a penchant for smoking cigars on the bench during every game. At that point Mickaël was not yet the great aficionado he has since become, and he still wishes he'd dared to ask his trainer why he enjoyed cigars so much, and what they brought him during those high-pressure NBA games among the noise and the fury and the ferocious on-court competition. "I've asked people who knew him," says Mickaël, "but it's not the same. When I played with the Celtics, on the other hand, I often smoked with my teammate Paul Pierce. After every home game, we would spend at least two hours in a Boston cigar lounge. It was important for us to share something outside of the game. Otherwise, I would have gone home and sat alone while everyone else had already gone to bed. I'd still be all fired up from the game and couldn't get to sleep. So I'd choose a good cigar from my humidor and enjoy smoking it while reflecting on how I'd played in that night's game. What had been good about my performance, what was not so good, who am I? Mulling over these questions helped me improve my game. It's generally frowned upon for major-league athletes to smoke… But I savor cigars the way other people enjoy a good bottle of wine."
 "Cigars are a real intellectual passion."
While he was on American soil, the devotee of Habanos says he found it easy to track down his favorite puros. "I turned the cellar of my Orlando home into a real museum by buying Cuban cigars from a well-known online retailer that shipped them to me direct. Now, I attach great importance to the production date that's printed on the boxes. I also look for pre-embargo Habanos – that's the collector in me coming out! I always buy three boxes: one for smoking, and the others to store so I can smoke them twenty to twenty-five years from now. I practice keeping the flavors in my mind. Cigars have become a real intellectual pastime for me." What flavors does he prefer? "I don't like it to be too woody, I prefer a sweet taste, and a touch of creaminess. I prefer complexity to strength. If I had to choose between a Partagas and a Hoyo, I'd lean towards the Hoyo."
Six boxes of Cohiba 1966 down the drain!
Now thirty-five, Mickaël finds himself temporarily without a club. He wants to play high-level basketball for another three years and then retire. "Cigars are a whole way of life," he repeats like a mantra. So, would he consider becoming a professional? Piétrus doesn't rule it out, but for now he's still learning. "I'm really interested in the limited editions. How do they differ when compared to the standard cigars, the D4s or the Montecristo No. 2s, for instance? The Cohiba 1966, Limited Edition 2011, made a big impression on me. One day in 2011, I was in Pau at my brother Florent's (Ed: also a French international basketball player). He doesn't smoke, but I woke up at six o'clock in the morning and suggested we go to Andorra to find some Cohibas. He complained – "that's four hours' drive!" – although he agreed to come with me. I bought six boxes! I had ordered a humidor to keep them in, but my club recalled me to the United States for the training camps and I had to leave straight away. So all the cigars ended up drying out. That was the biggest cigar-related disappointment of my life!"
"My all-time favorite is the Romeo y Julieta Wide Churchills Gran Reserva"
And what was your best find ever? "I've just discovered the Romeo y Julieta Wide Churchills Gran Reserva. That ranks as my top cigar now, and I keep it for special occasions. But I'm pleased to say that I'm not blasé and I still have unfulfilled dreams. For instance, I want to smoke a Davidoff Dom Perignon – from the Cuban period, naturally."
One last question, then. What about other terroirs? "I like Dominican Davidoffs, but I'll always have a preference for Cuba because that's where cigars were invented." After a moment's thought, Mickäel adds: "I like the idea of smoking history…" He's got a knack for catching the ball on the rebound.