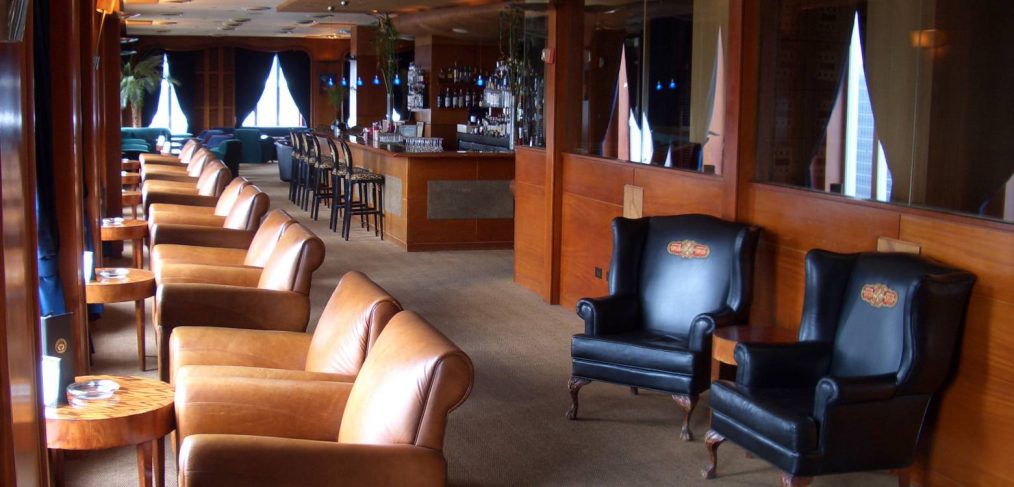 New York : The Grand Havana Room, an exceptional setting for cigar lovers
It's perhaps the most exclusive place to smoke a cigar in all New York City. It sits on the penthouse – 41st – floor atop a Midtown office building on Manhattan's Fifth Avenue, where the carefully selected 900 members represent the "crème de la crème" of Wall Street, New York finance, entertainment and sports. It's the members-only Grand Havana Room, and it owes its existence to an unhappy moment at a California restaurant 20 years ago.
"It started with a group of friends of mine, including Arnold Schwarzenegger, having lunch outdoors on a big patio," Stan Shuster, Grand Havana Room's president, recalls. "We were smoking, and a woman sitting 30 feet away said, 'Stop smoking cigars.' I was very upset, called over the manager and said, 'This is ridiculous.' I told my friends I'm going to open a place that's only for cigar smokers. Everybody looked at me and laughed. But I said I'm going to do it."
How to blend class and sophistication
 The first Grand Havana Room, in Beverly Hills, California, opened in April 1995. The larger New York version opened in May 1996 in a space that had been known to decades of New Yorkers as the Top of Sixes restaurant – legendary for first dates, bar mitzvahs and weddings. (The building's address is 666 Fifth Avenue, at 53rd Street.)
"I wanted to build something like you'd want to build at your house but your wife wouldn't allow you," says the 53-year-old Shuster. "Very comfortable, with dark colors, mohairs, very clubby-looking. Someplace you'd want to sit down, relax, have a drink, smoke your cigar. That blend of sophistication and a relaxed feel." And that's what he did.
"It feels like once you step off the elevator you're somewhere else," he says. "There's nothing better than those views of the city." It "takes you to another place. You forget everything you just left, and now you're in a whole different world."
There's a bar and lounge, a full menu in the dining room, an extensive list of spirits, excellent wines; there are lighters and cigar cutters for sale, and of course cigars. And there are humidors. Five hundred humidors.
"It's my Mona Lisa, the lockers, or humidors, where people keep their cigars. Each humidor can hold 15 to 20 boxes of cigars."
On a typical evening, Shuster says, "ladies and gentlemen come in at 5 or 6, have a drink at the bar; some will have a light cigar smoke." They "have dinner, come back, have another cigar, another drink, sit and look and enjoy the views from 666 Fifth Avenue." The club is a great place for networking, getting to know people, bringing and meeting friends, bringing clients and getting deals done, or at least creating the atmosphere for getting deals done.
A model of discretion for stars
Becoming a member is not easy, and not cheap. The New York venue has about 900 members (the smaller Beverly Hills site has about 650) and membership is by invitation only and limited. "The waiting list is very long," Shuster says. "The attrition rate is very low at both clubs. We pretty much only allow a new member when a member leaves, and we don't lose very many members."
That means "about five to seven members a year, and we have maybe 100 waiting," he says. Applications are reviewed by an advisory board, "and references from an existing member are very important," because they allow the board to get a sense of who the applicant is.
The membership is "eclectic" and disparate, he says. "The mix is really good. Our club represents New York very well."
The cost? There are three levels – corporate membership in New York has a $17,500 initial fee and $900 a month dues; an individual, private N.Y.C. membership is $7,500 and $325, and a shared membership, which essentially means a shared humidor, is $5,000 and $275.
Who are the members? Shuster won't say. "I respect everybody's privacy." Members "are able to enjoy things without any apprehension about 'what are they going to say about me?' That's why the success is there. I don't care who's smoking a cigar, as long as they're having a good time."
Information: www.grandhavana.com