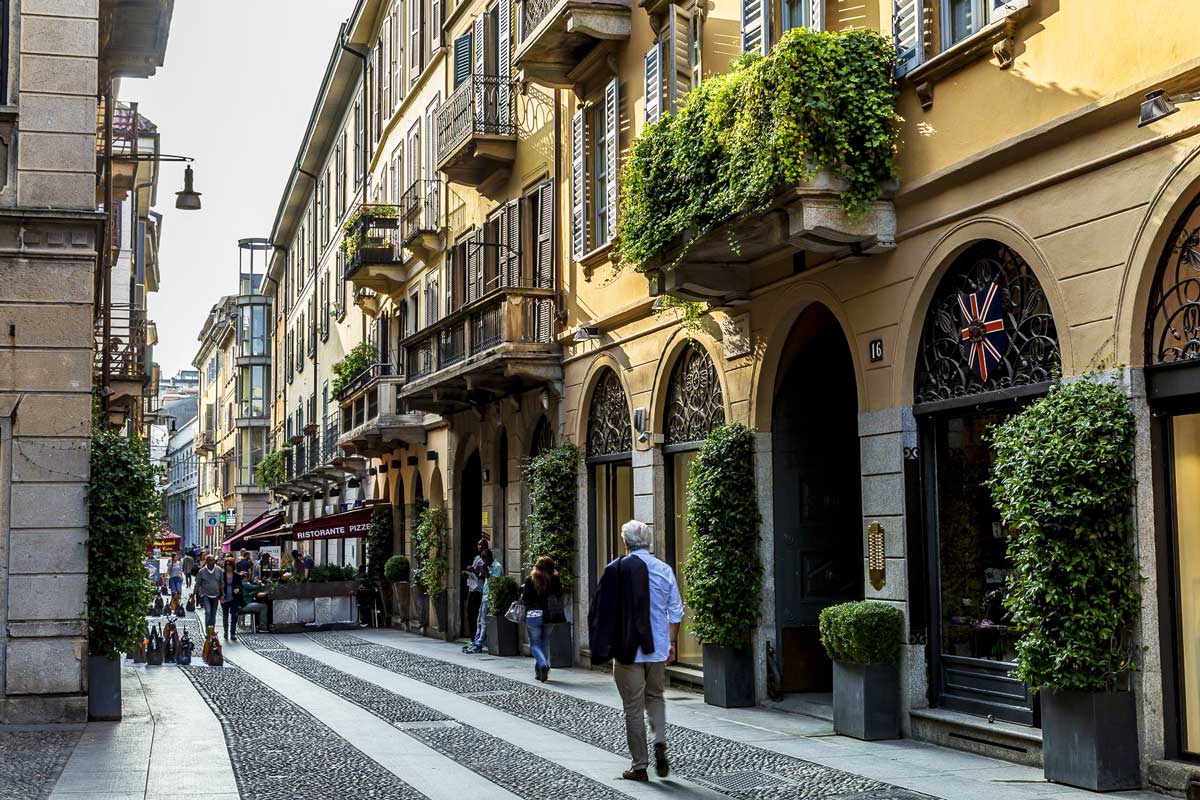 It's one of the biggest and best cigar collections in the world: 6,000 cigars, 1,500 objects, more than 5,000 books and historic documents, tens of thousands of cigar bands and vistas. It belongs to a rich Italian man who has devoted ten years of his life to it.
 By Camille Sifer
A fifty-year love story with cigars
Paolo Jucker (Swiss on his father's side but unabashedly Milanese) has been in love with cigars for nearly half a century. The love story started when he was just 15, with a Partagas Palmas Reales (since discontinued). They were machine-rolled lonsdales sold in transparent plastic tubes. "I smoked coach-loads of them," he remembers with a smile. "They were probably mediocre but they were my weakness for years, and I still love that format."
From May 1968 to Havana
The heir of a rich family of industrialists, a cultivated man of leisure, he organized his life around comfortable privileges of birth and an intellectual interest in Marxist theory. "I was studying philosophy in Paris in 1968, and I would smoke my Palmas Reales during the demonstrations. I thought I looked more like a Cuban guerilla than an affluent bourgeois!"
Cuba was his great love. The women, the revolution, the cigars… He even attempted to accommodate his other great love, Wagner, on the island of the barbudos by financing concerts of the Flying Dutchman at the national theatre of Havana in 2013.
One exceptional cigar per day
Aged nearly 70 today, Paolo Jucker now has more demanding taste in cigars. He still loves Cuba and women, but Cohiba's Lanceros  – "only when they're good" – or Partagas's Série du Connaisseur – "I still have some" – have replaced the Palmas. He now only smokes one cigar a day but not just any old cigar at any time of day: "After dinner, when I get home at around 2am, I light up a habano. I smoke it slowly, very slowly. It lasts until bedtime, in the early hours of the morning."
After evaluation
Paolo Jucker started his collection by accident. In 2002, during one of his many trips to Cuba, he bought an old case from one of the second-hand goods dealers on Plaza de Armas, in the heart of Havana's old town. This purchase instantly turned him into a nearly compulsive collector of everything related to cigars. Fast-forward 15 years and his unique collection, valued by Arnaud Thomasson (a passionate cigar enthusiast himself), is divided into four parts:
– the cigars themselves, 6,000 habanos that date from the 1850s to now. The rarest item is also the oldest cigar in the world: a Londres, presented in the British capital at the first universal exposition, in 1851;
– 1,500 miscellaneous objects: humidors, cases, cigar cutters, displays, presses, etc. The oldest article dates back to 1870, a Cabañas y Carbajal humidor made from hand-painted lacquered cardboard, bearing the Spanish royal arms. Arnaud Thomasson talks quite emotionally about what he considers to be the collection's centerpiece: a unique, extremely rare humidor, created in 1894 for H. Upmann's 50th anniversary: "It's an exceptional historic article. It is made from solid silver and beautifully sculpted lacquered wood. It is priceless, but I would value it at between €30,000 and €50,000." It is also worth mentioning the humidor of Fulgencio Batista, the governor of Cuba overthrown by Castro in 1959, or the personal box of Camillo Cienfuegos, the celebrated guerilla killed accidentally in October 1959. Paolo Jucker, meanwhile, is rather keen on a porcelain cigar display from 1810. Over a meter tall, it is the only surviving example of this type of display case, the first of its kind to be used in French tobacconists;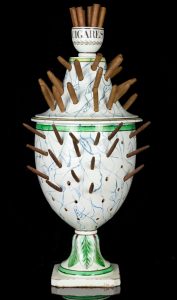 – Books and documents make up the third part of the Jucker collection: some 900 works, the oldest of which date back to the end of the 16th century, and thousands of historic documents, manuscripts, magazines, or notary deeds related to the history of the cigar, like a copy of the general decree on tobacco from 1817, signed by King Ferdinand VII of Spain, which authorized the creation of cigar factories in Cuba;
– And finally, bands and vistas, making up 50,000 often extremely rare and meticulously collected images bound in 200 huge albums, which are lovingly preserved by a friend of Paolo Jucker in a house near Como lake. They are safer there than in the huge cellar in Milan where all the other items of this unique collection are stored and carefully preserved.
Paolo is now concerned with the destiny of his collection. He has the feeling that it is complete, and he is even somewhat tired of looking for new items. Who will take over? His only son has neither the taste nor the desire to curate the collection. Sell it? Maybe… "If you have €1.2 million, it's yours…"
http://collectionpaolojucker.com/