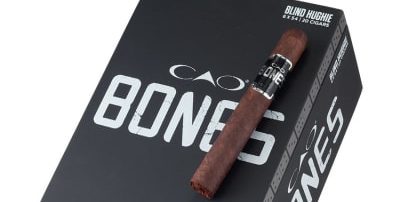 CAO Bones Blind Hughie: a cigar to be discovered!

CAO Bones
Blind Hughie
Made in Nicaragua
Wrapper, binder: Connecticut
Filler: Dominican Republic, Honduras, Nicaragua
152 mm × 54 (21.43 mm)
Grand robusto
€9
Appearance: A veined maduro wrapper
Cold draw: Chocolate, hazelnut, vanilla. Loose draw.
Smoking experience:
First third: Quick out of the blocks with woody and chocolatey aromas and a delicious hint of vanilla. The smoke is very pleasant, although a little strong.
Second third: Still a full-flavored and easy smoke, the second third is in the same vein as the first. Notes of cocoa and licorice appear. The draw and burn are perfectly calibrated.
Final third: The smoke becomes significantly more intense and darker (burnt and peaty aromas) without being unpleasant. However, a sudden change in the final puffs bring excess bitterness.
When to smoke it: After dinner.
Comments from the panel: "Nice and smooth in the first two thirds"; "A dark, full-strength smoke."
The ADC's Verdict:
A full-flavored cigar that we have scored generously due to its good value for money for this format. The same blend is available as a robusto, under the name Chicken Foot (127mm x 54-21.43 mm), which is slightly less smooth and flavorsome.
Rate: 4/5
This review can also be read in L'Amateur de Cigare English Edition n°4.