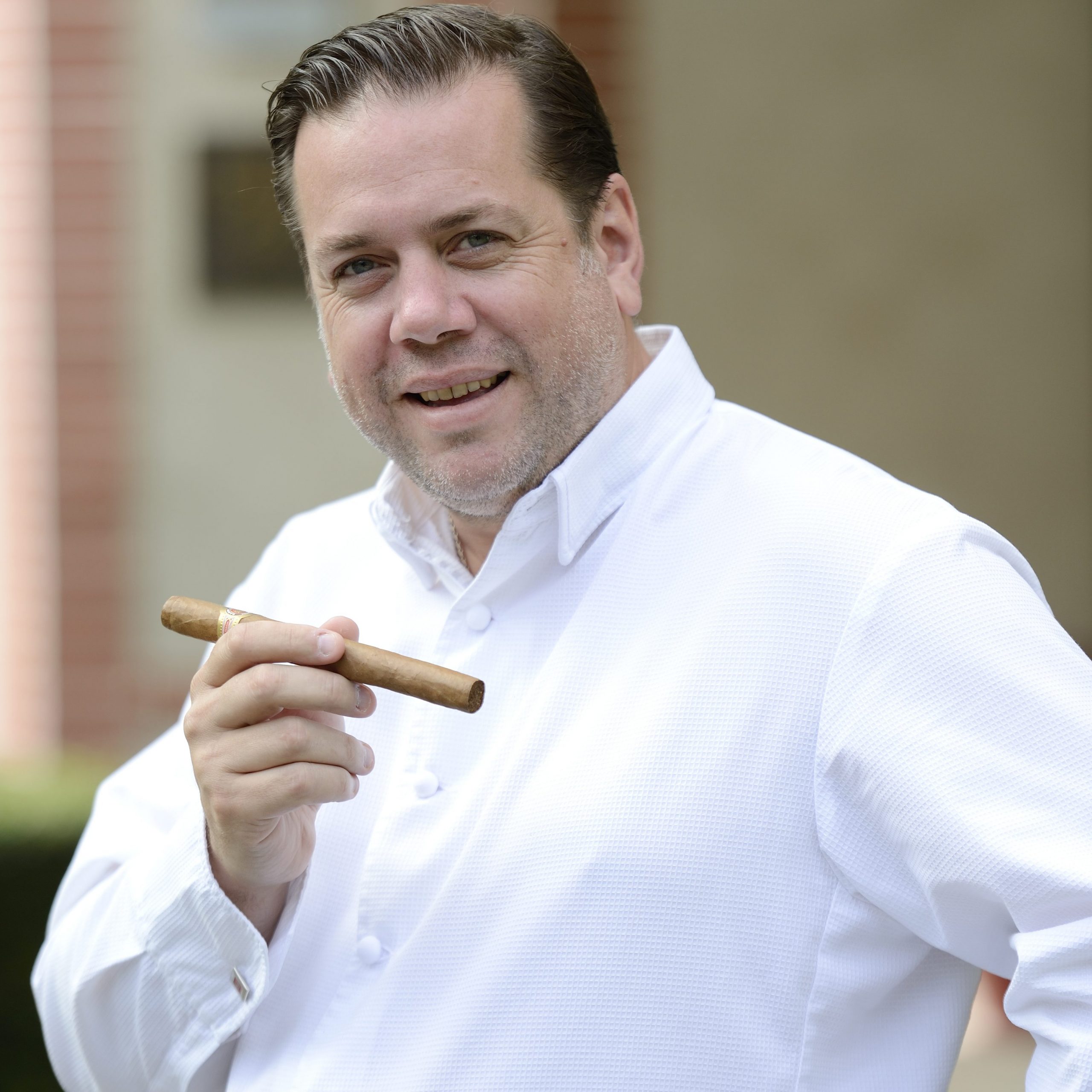 Chef Arnaud Lallement's all-champagne menu
The three-star chef, and authentic lover of Cuban cigars, Arnaud Lallement creates dishes on the edge of acidity, which go perfectly with champagne.
 By Thierry Dussard
 The man who learned to read using the Michelin Guide has become one of the Guide's most decorated chefs. In comparison with the French Academy, which has forty members, known as immortels, there are only twenty-three three-star chefs. Membership of this elite group is reviewed every year. "Or every day, twice a day even, at lunchtime and in the evening," clarifies Arnaud Lallement with a smile that says a lot about the gentle pressure that weighs permanently on his wide shoulders.
The acidity gamble
 This is just what it takes to keep him from becoming complacent. He revitalizes his cuisine in the same way by giving it a touch of acidity. "Acidity (or sourness) is one of the four basic tastes, along with bitterness, sweetness and saltiness, and is the common thread in most of my dishes. Of course, it goes perfectly with champagne." The thousand champagnes featured on his wine list – from the full-bodied Dom Pérignon, blended from sixteen grands crus, to the more modest Francis Boulard 2006, north of Reims – are testimony to this geographical and culinary proximity. Pleasure is therefore twofold at his table, both on the plate and in the glass.
Fattened chicken, bonito tuna and champagne
"Half our customers choose the all-champagne menu," emphasizes the chef, who has become an ambassador for this region where the tart verjuice is a traditional condiment. He demonstrates this with the Cour d'Armoise fattened chicken, cooked at a low temperature and presented with a dashi dumpling (seaweed and dried bonito tuna) and a garland of small pickled vegetables. The taste buds tingle but the champagne's effervescence gives the dish balance.
Sauce de sorcier and rosé champagne
 Arnaud Lallement – who has been based in Tinqueux, in the suburbs of Reims for the past thirty years – does not stop there. The fattened chicken is preceded by green asparagus with a mousse of vin jaune and followed by langoustine royale with Timut pepper from Nepal. He continues with Brittany lobster accompanied by a sauce de sorcier (paprika and Sauternes), which is served with a rosé champagne, in homage to the chef's parents. "My mother is Breton, and, in my father's time, lobster was served traditionally at Christmas. Now it is served nearly all year round." Veal sweetbread and fennel ravioli (still acidic) then take it even further, accompanied by a red Coteaux Champenois by Bérêche & Fils, the 2014 vintage – the year in which Arnaud Lallement was awarded his third Michelin star, and two years before Gault & Millau gave him 19.5.
Two Cuban cigars a day
We brought two CAO Pilón Churchills (with a Nicaraguan filler and an Ecuadorian wrapper) and a Cohiba Pirámides with us. "My two sons, who already smoke cigars, will be delighted," reveals the chef. "I'll smoke the Habano tonight. I usually smoke two a day (Magnum 56 or Behike 54), one after each shift. It is a moment of relaxation, plenitude and satisfaction." Yet, Arnaud Lallement has never been to Cuba. "It would be a fascinating trip, but as a hotelkeeper, I like to be behind the stove, and to ensure that my guests are comfortable. I'll go one day, for sure, when I have more time…"
L'Assiette champenoise, 51430 Tinqueux, open every day except Tuesday and Wednesday. Tel.: +33 (0)3 26 84 64 64