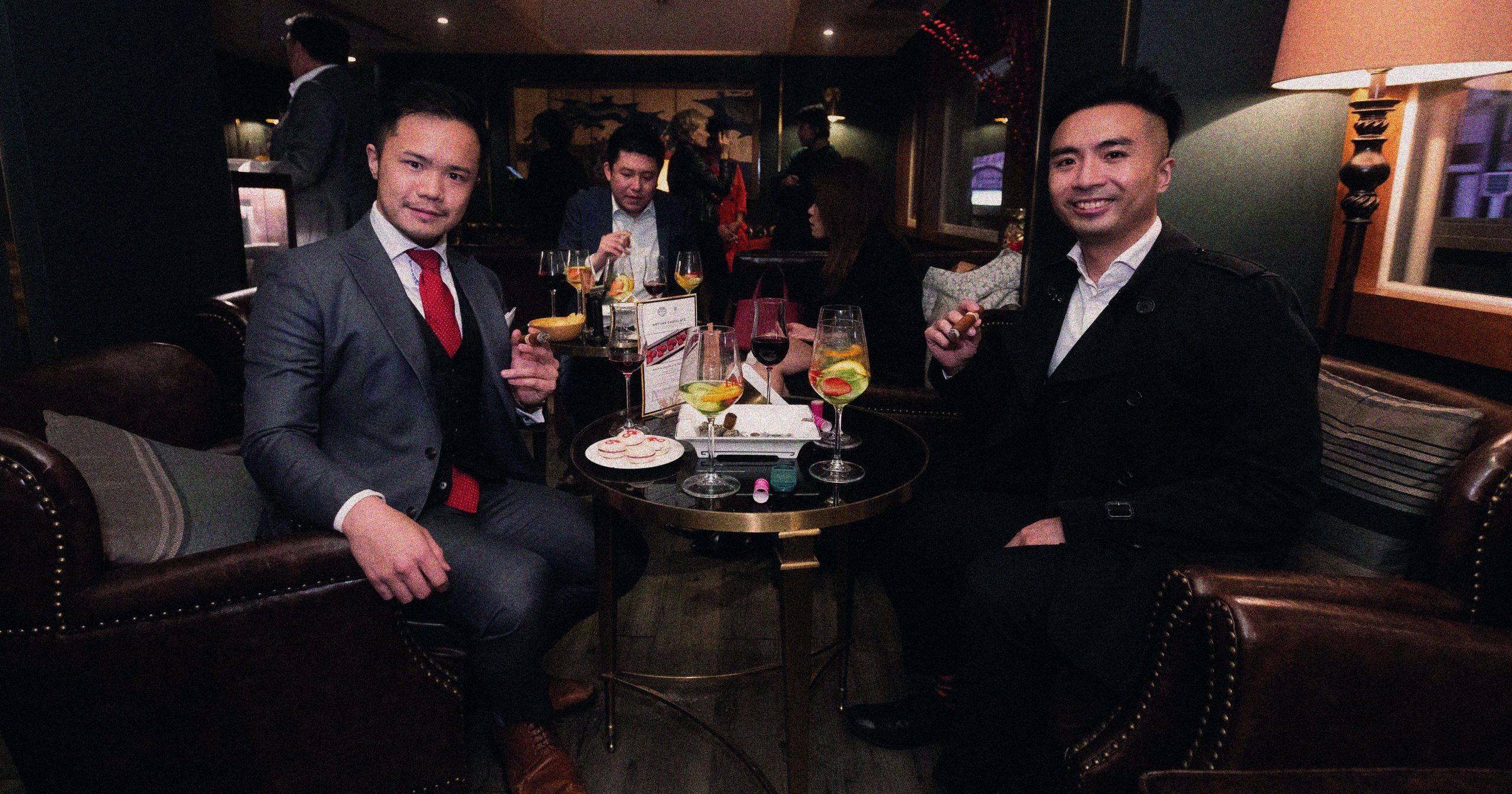 China: 1 billion cigar lovers?
In 2020, China became the world's biggest market for Cuban cigars, with a spectacular 15% rise in sales on the mainland. In this report, we take a look at a market with complex, not always transparent rules that feed rumors and misinformation.
Philippe Dova, our correspondent in Hong Kong
So, here we are. China's irresistible rise to the top of the Cuban cigar market was completed in 2020. The "Middle Kingdom" dethroned Spain as Cuban manufacturers' biggest client. According to the official figures published by Habanos S.A. in May 2021, annual sales grew by 15% in mainland China (not including Hong Kong, Macau or Taiwan). "It's not a surprise – China has always been a growing market – but consumption has really taken off over the last two years," observes Norio Hattori, the Marketing Director of Pacific Cigar Company (PCC), the exclusive distributor of Cuban cigars for the Asia-Pacific region.
This is a paradox in a country where tobacco remains a complete state monopoly, with no distinction made between cigarettes and cigars and very strict quotas on imports, which only increase by 10% per year for cigars of all brands – wherever they are from and whatever their quality. "Although Infifon [the company that is the interface between Cuba and the China Tobacco monopoly – Ed.] has tried increase quotas over the last few years, the figures are not very clear," explains Éric Piras, the CEO of Cigraal and an expert on the Chinese market. "If you bear in mind that only 50% of the annual quota of approximately 1.3 million cigars are machine-rolled, the proportion remaining for hand-rolled cigars is derisory compared to what actually enters the country and what people smoke!"
A huge parallel market
The figures – when they exist – are far from clear, but professionals estimate that annual cigar sales in mainland China amount to between 8 and 10 million cigars. Official distribution is limited to two Casa del Habano stores in Beijing, five Davidoff stores (which also sell Cuban cigars) spread all over the country, and a few nice local cigar stores. As a result, to meet demand from cigar lovers and the many private clubs and smoking lounges that have popped up in major cities over the last few years, parallel distribution channels have emerged to circumvent the powerful government monopoly and its draconian quotas.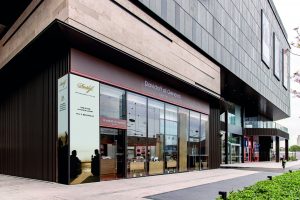 Davidoff was a pioneer, opening its first stores in China as early as the 1990s. Above, the Davidoff store in Shenzen.
The subject is obviously taboo for the main market players – the representatives of Infifon that we contacted declined our requests for an interview. The authorities – when they are not actively complicit – tend to close their eyes to this parallel market according to the age-old principle of "see no evil, hear no evil, speak no evil"… However, there is no lack of anecdotal evidence; from Asian customers raiding European cigar stores in search of the best cigars; to young Chinese students in Havana plundering shops and sending their booty back home via a mysterious network; the system seems well established. "Back when we could still travel, when I went to Havana, I would always do a stopover in Roissy-Charles-de-Gaulle to meet the managers of our duty-free shops, who sell our Siglo accessories," explains Norio Hattori. "Without fail, they would tell me that Asian customers had snapped up all the cigars they could find before catching their flight. One day, the store's employees even had to leave the international zone to go and buy two suitcases from Aéroville for a Chinese customer who then boarded with two suitcases packed with cigars!"
The pandemic reveals an underlying trend
The Covid-19 pandemic and subsequent border closures sounded the death knell of this period and completely transformed Chinese consumers' purchasing behavior. "Continental customers, who would regularly travel to Hong Kong or Macao to stock up, no longer had that option," explains the marketing director of PCC. "After a while, they started making online purchases by contacting our teams on WeChat, using video calls to see what was available in our humidors, and reserving the cigars that interested them in order to collect them when they could travel again. This was an excellent source of sales for us, in particular with collectors." Éric Piras, who runs a smoking lounge in Hong Kong, concurs: "We have seen a significant uptick in online orders since the start of the pandemic. We send the cigars to these customers in mainland China, and they pay the import taxes."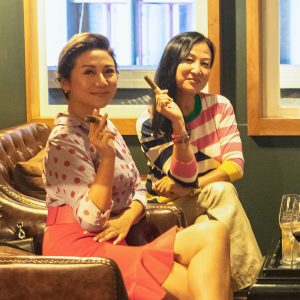 Professionals estimate annual consumption in mainland China at 8 to 10 million cigars.
According to consultancy firm Bain & Company, sales of luxury products in China skyrocketed by 48% in 2020, and cigars – the luxury product par excellence and outward sign of success – have not escaped Chinese consumers' post-Covid buying frenzy. But as with other luxury products, the pandemic has merely revealed and accelerated a pre-existing trend. "The growth of the Chinese market and the acceleration of demand goes back 10 years. Now it's the biggest market," explains  the Managing Director of Davidoff Asia, Laurent de Rougemont. A market trend that closely mirrors what happened with wine in China approximately 20 years ago.
As they did with the grands crus of Bordeaux, Chinese consumers initially went crazy for the big Cuban brands – and Cohiba in particular – before taking an interest in other brands and then other regions. "Cuban cigars remain the star, but there is a new generation of smokers who want to try something different to their parents and are discovering so-called 'New World' cigars, just as Bordeaux lovers discovered Italian and Chilean wines back in the day…," observes Éric Piras, who has been in charge of the distribution of Dominican (Arturo Fuente), Honduran (Flor de Selva) and Nicaraguan (Joya) cigars in Hong Kong for the last six years.
Generation Z
"It's true that wine helped us a lot; the Chinese are much more open-minded than they were a few years ago. The label is still important though," adds Laurent de Rougemont. "We essentially sell two brands to Chinese customers in our stores: Cohiba and Davidoff, which are the most expensive products in our range. Chinese customers are still attached to the brand. In just 15 years, they have discovered luxury watches, wine, fashion, cigars… They don't want to spread themselves too thin, so they remain loyal to two or three brands in each product category."
By opening its first store in Beijing, in 1994, and by organizing events to initiate new aficionados to "cigar culture" over the years, the Swiss brand has been a pioneer. It has easily adapted to changing consumer behavior – Davidoff was the first to launch special editions for the Chinese New Year (see ADC English edition #1) – and the arrival of new consumers like millennials and generation Z. More inclined than previous generation to buy luxury goods to keep up with the latest trends, this new generation of consumers mainly buys online, prefers limited editions, and is looking for authenticity.
"The Chinese love history, and limited editions are very popular as gifts, because they afford importance to the person who receives them," believes Laurent de Rougemont, while Éric Piras claims that "more than 50% of Chinese customers who buy online are under 25 years of age." Norio Hattori believes that "they buy prestigious brands like Cohiba, but they are starting to discover Quai d'Orsay and the incredible story behind that brand. They want to learn, so that they can understand it better. It's like with wine; they buy Petrus, but they also buy less well-known grands crus because there is an authentic history behind the château."
The scourge of counterfeits
In China, the top cigars are no less likely than a Petrus or Romanée-Conti to be counterfeited – a veritable scourge that has developed as quickly as consumption. It is practically a national sport in a country that is home to the factories that produce Cohiba's packaging and where their tubes, bands and empty boxes are on sale perfectly legally on Taobao (the Chinese version of Amazon). "It has been obvious for three years! There are Cohiba shortages in official channels at the moment, and it is impossible to find certain lines, but counterfeiters are very creative and don't hesitate to market Cuban lines that have never even existed; you can find fake Behike boxes, made in China with poor-quality tobacco imported from Costa Rica, for example. As a result, some inexperienced smokers buy these boxes from unscrupulous tobacconists in China and find the cigars very poor value for money…," complains Éric Piras, who along with Norio Hattori organized a workshop on counterfeits in September in Hong Kong, in order to teach consumers to distinguish counterfeits from the real deal.
It remains to be seen if, once they have acquired this knowledge, this up-and-coming generation of Chinese consumers will prefer to switch to cigars that are created in China, as they already tend to do for certain other luxury fashion or cosmetic products. "Sales of Chinese cigars have increased, but for now they are mostly made with tobacco imported from the Dominican Republic or elsewhere. Production is changing, but the prices are very high; some Chinese cigars cost much more than Cohibas," reveals Éric Piras.
"There are regions in China that are suitable for growing tobacco, and sooner or later the Chinese will learn how to make good quality cigars with an identity that is specific to China," predicts Norio Hattori. Habanos S.A. has a headstart, but we mustn't rest on our laurels." And Chinese cigars may well reach the same position as Ao Yun or Ningxia wines; luxury products that are now in demand and recognized for their quality – including outside of China.
---
The Luxembourg route
We are sitting on the terrace of a very popular Italian restaurant in Luxembourg. Mr. Cheng* is delighted; he has just bought around 100 vintage cigars from a French collector (limited editions from 2003, Cohiba jars from 2000, etc.). An IT engineer who works for a major bank, he devotes his free time to hunting down puros that regularly arrive in this tiny country, which is fairly spoiled in terms of distribution with its two Casa de Habano stores. His scope of action extends to neighboring Belgium. If he could buy all the limited editions, regional editions and all the Cohibas on the market, he would do it without hesitation. Mr. Cheng is prepared to pay over the odds – and in cash! Is he a compulsive buyer?
No, in fact this Chinese man, a native of the Guizhou province, is part of a parallel supply chain. He won't be smoking any of the rare items that he has just acquired. All the cigars he buys head straight to a mysterious buyer in Hong Kong. The destination raises a question; Hong Kong is a special autonomous region and is fairly well served in terms of cigar supply… So why buy cigars in Europe? Mr. Cheng doesn't have an answer to this, replying that his client "probably does business," before admitting that he's never met him in person and it's an intermediary – also Chinese – who collects the cigars and pays him generously in cash for the next delivery.
Final question: how do the cigars get to China? With mules? In diplomatic suitcases? In containers? "I wouldn't tell you even if I knew," responds Mr. Chang with a smile that shows he has already said too much.
J.-P. S.
* The name has been changed
---
The Beijing-Havana connection
In a store in the old town of Havana, the sales assistants, underworked during the pandemic confirm our suspicion: the biggest buyers are usually Chinese. And they prefer Cohibas.
This clientele is relatively new, even if the ties between Cuba and China go way back. In the 1930s, excluded and stigmatized in the USA, thousands of Chinese people sought exile in Havana, where they founded one of the largest Chinese quarters in Latin America. The only remnants of this community, which amounted to tens of thousands of people in the 1950s, are around 100 of their descendants – and two little streets full of restaurants. Many of them fled the country due to the nationalizations that occurred during the first years following the revolution.
Currently – or normally in any case – there are around 2,000 Chinese residents in Cuba, with students, traders, and workers in the oil and rail industries, but many of them returned home because of the pandemic. In terms of tourism, some 43,000 Chinese visitors travelled to Cuba in 2019, a very small contingent compared to Canadians (1.1 million) or even the Germans or French (200,000).
So, although they are far from the most numerous, the Chinese remain the biggest buyers of Cuban tobacco. "There were around 50 Chinese people at the last Festival del Habano, in 2020, and they purchased more than €2 million worth of cigars," explains Wang Zheng, an entrepreneur in the tourist industry who opened the first cigar store in Beijing, in 2005.
Although it is difficult to obtain figures on the lucrative Cuban cigar business from the two state monopolies of these two communist countries, one thing is certain – this market cannot avoid smuggling. Officially, Chinese visitors can bring home up to 100 cigars per person in their luggage, and a Cuban cigar that sells for $10 in Havana is worth $50 in Shanghai: "obviously, that gives people ideas and lots of Chinese people buy them here and sell them back home," explains Wang Zheng. But Cuba is a long way away, so many Chinese distributors simply go to Spain or France to stock up – it's faster and the trip is less expensive!"
Domitille Piron in Havana
This report was published in L'Amateur de Cigare English Edition n°4. Subscribe now!