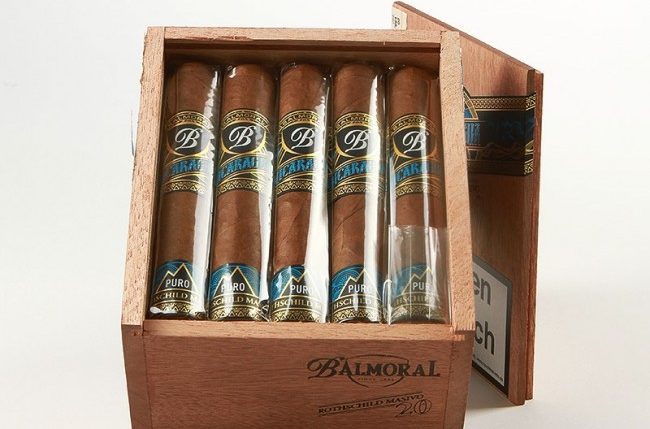 Headline Cigar: Balmoral Puro Nicaragua Rothschild Masivo
Sold in boxes of 20, and adorned with a beautiful band that pays tributes to its homeland's rich volcanic soil, this Rothschild garnered our praise for its very attractive price, which is a distinct advantage in this time of widespread price increases.
By Gabriel Valentin
Balmoral is trying its hand at puros, and for the first time, this new "Nicaragua" edition is rolled… in Nicaragua. A vestige of the Agio period, until now, all Balmoral's cigars were rolled in the Dominican Republic. But the brand was recently acquired by STG, a group that owns several factories in the Caribbean and in Central America. This new range currently includes a Rothschild Masivo and a Petit Robusto.
Review

Made in Nicaragua
Wrapper, binder, filler: Nicaragua
Dimensions: 125 mm × 55
Format: Robusto
Price: €8.90
Appearance: A chocolate wrapper with attractive coppery glints. Very veiny.
Cold draw: Notes of barnyard, with sweet touches (gingerbread) and leather. Good draw.
Smoking experience:
First third: This Rothschild gets straight down to business with organic notes and coffee. A lot of very mild smoke and a pleasant, oily mouthfeel. Soon becoming smoother, with notes of brioche, this first third already features a very nice range of flavors and a good level of complexity. The smoke remains full-bodied and meaty, leaving a very nice aftertaste. A very aromatic, full-flavored first third; the strength is well channeled and under control.
Second third: The second third is in the same vein as the first; still just as smooth and full-flavored. The flavors are very well balanced, with slightly more woody and roasted notes than in the first third. A hint of black pepper is perceptible in the base notes. Very good build and burn, despite some cigars being slightly soft to the touch (under-filled?). The ash is white and compact. A flawless and very appealing smoke so far.
Final third: The final third is slightly more intense but never loses its restraint. The flavor profile remains meaty and complex with organic notes of green coffee and bark. Moreover, the smoke doesn't overheat, which is a plus. Even if we don't see much significant change in the flavor profile, this is a steady smoke with no irregularities. The pace continues at this consistent rhythm, with no false notes, meaning it can be enjoyed right down to the final centimeter.
The ADC's Verdict:
This Nicaraguan puro delivers an excellent performance. It is aromatic, complex, and strong – but not overly so. A very enjoyable smoke. It just lacks a little energy to achieve the perfect balance. A tad one-dimensional too, but pleasant, indulgent and perfectly built. A great cigar by a brand whose new products are often pleasant surprises.
Flavor: 8/10
Strength: 6/10
Persistency: 7/10
Bands: 4.5