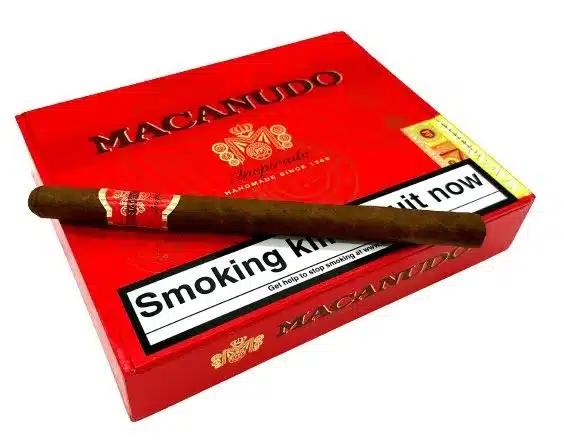 Macanudo Inspirado Orange Lancero: A mutable nature and a great balance
Lanceros are on the rise! We are particularly fond of this format, which was for a time neglected by aficionados, who seemed to prefer fatter cigars. But much to our delight it is starting to find its niche in manufacturers' catalogues. Crafted in Honduras from a subtle blend of Honduran and Nicaraguan tobacco, this elegant cigar is a delight. Aromatic, complex and refined, it is the perfect introduction to this format.
Made in Honduras
Wrapper, binder: Honduras
Filler: Dominican Republic, Honduras, Nicaragua
Dimensions: 191 mm × 38 (15.09 mm)
Format: Grand panatella
Price: €7.50
Appearance: An oily colorado wrapper with a few nerves. Overall, this looks like a very well-crafted cigar.
Cold draw: Subtle, sweet, woody notes and touches of leather. Very loose draw.
Smoking experience:
First third: A full-bodied start, served by a good volume of smoke. Aromas of bark and pepper dominate in a very warm ambience. The smoke coats the palate perfectly, and you even feel an oily sensation in the mouth. The peppery notes gradually fade out, making way for a deep woody atmosphere. Decent strength that is relatively well channeled and perfectly balanced. This is a very good first third that sets you up perfectly for what's to come. Good persistency.
Second third: The flavor profile shifts towards more pronounced notes of underbrush, with a certain freshness. We appreciate the touches of moss and bark, complemented by a hint of spice. What we like with this type of format, is the discernible shift in aromas as you smoke through. The strength also builds up progressively, which is typical of grand panatellas. It leaves a remarkable mouthfeel.
Final third: The flavors continue to evolve and it kicks the strength up another notch. Ashy notes of burnt underbrush impose themselves. The cigar becomes warmer, without excess. You need to enjoy the finish slowly – don't rush it – because this cigar tends to overheat if you are too pushy. A very intense, aromatic finish. The cigar retains its balance right to the end.
The ADC's Verdict:
There is never a dull moment, to say the least! Ever-changing, this Lancero is a sure-fire hit. An appealing range of flavors, from comforting woody notes, to the bracing freshness of the second third, before nice ashy notes in the finish: this new cigar tells a story and serves up a whole world of character. Maybe slightly lacking in complexity, but this minor flaw is easily offset by its mutable nature and great balance. A smoke that will keep you warm during these cold winter nights.
Flavor: 7/10
Strength: 6/10
Persistency: 8/10
Bands: 4/5
Gabriel Valentin
This article was first published in L'Amateur de Cigare English edition #11