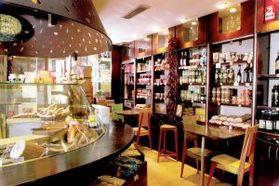 Paris : I Golosi, an Italian chef who loves cigars
I Golosi, the best Italian restaurant in Paris's rive droite, is celebrating its twentieth anniversary. The owner, Marco Tonazzo, is a gourmet who loves his cigars "nice and supple, except for the Toscani, which I keep dry." For him, each cigar is unique, just like every bottle has a story.
The charm of the Parisian grands boulevards and the warmth of Mediterranean cuisine blend wonderfully in this authentic trattoria. The menu changes every week, and the customers come to play a sort of "Italian roulette", but the food is so good that they are sure to win, whether they come at lunchtime or in the evening.
In the adjoining delicatessen, you can also buy Parma ham, olive oil, pasta, a selection of wines from Piedmont to Sicily, and even a craft beer – the Tre + Due – brewed in Treviso.
Location : 6, rue de la Grange Batelière, 75009 Paris – FRANCE / Tel.: +33 (0)1 48 24 18 63
www.igolosi.com (site under construction)