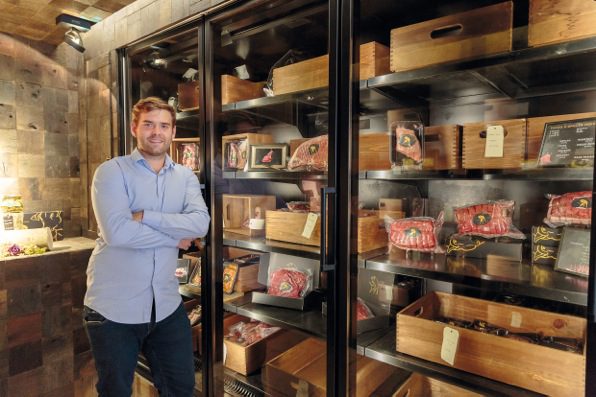 The french celebrity butcher menu : steak & robusto !
The latest in a long dynasty of cattle farmers, celebrity butcher Alexandre Polmard sets himself apart by "hibernating" his meat. These vintage meats are worth their weight in gold and can be enjoyed with a cigar.
 By Dominique Couvreur
"The goods were laid out in front of a window, on a shelf that protruded into the street outside with a wooden awning that protected the stall from the rain." If Gustave Pessard, the author of the Nouveau Dictionnaire historique de Paris (New historical dictionary of Paris, published in 1904) who described Passage de la Petite-Boucherie in such terms in the 19th century, was miraculously transported to modern-day France, he would be in for a surprise. The house at no. 3 still has the stone windowsill, but there is only one butcher's left; Alexandre Polmard's shop on the corner of Rue de l'Abbaye. And there not the slightest hint of a butcher's block or a meat hook. With carefully crafted lighting and cuts of meat presented in compartments of a refrigerated cabinet, it looks more like a Place Vendôme jeweler's shop. The meat is matured and frozen (they call it "hibernation") using a singular process.
From field to fork
The calves are suckled and bought at around five or six months, according to criteria that include the hair and the hide. All Blonde d'Aquitaine cows, they spend two years in pasture, grazing on grass, bark and leaves, at Domaine de Saint-Mihiel (in the Meuse department of France). For the final six months, the heifers are fed a mixture rapeseed oilcake, triticale (a hybrid of wheat and rye), alfalfa, beet pulp and hay in their boxes. "What they eat has an impact on the meat's acidity, texture, and marbling," explains Polmard.
After the animals are slaughtered comes the maturation phase. Contrary to the usual practice of beef aging, where quarter carcasses are hung, Alexandre Polmard isolates each muscle to mature it in a specific way: the 600 g of the surprise steak and the 800 g of the mouvant are removed from a carcass that weighs over a ton, and they go through different processes depending on their acidity and their texture…
Next comes hibernation – an original process developed by Alexandre's father, François Polmard – which preserves the meat at the optimum stage of its maturation, at a temperature of – 43 °C and with ventilation of 4 m3 per second. Hibernation doesn't change the meat – it doesn't improve it – but creating vintages enables you to play around, for example, by pairing wines with meat from the same year. This also means that someone who chooses to be cryogenically frozen may be able to celebrate their eventual resurrection with a side of beef from the year of his death!
Creating vintages also enables speculation… a side of beef bought for €900 by Fabrice Vulin, head chef of the Caprice at the Hong Kong Four Seasons hotel, eventually sold for €3,500. More modestly, in 2012, another side of beef went for €400 at an Artcurial auction raising money for the Red Cross…
Chefs fight over these cuts for their texture and the sauces you can make with them: "Guy Savoy serves a flash-fried chuck steak; Arnaud Lallement favors the sirloin in a dried beef crust; Fabrice Vulin prefers the side and the surprise; Frédéric Sandrini (chef of a one-star restaurant in Hagondage, France) takes the side and the contre-filet."
 Verdi and Céline Dion
"I was just 20 years old, and I was coming out of a movie theater with a friend. I had never even smoked a cigarette before and we bought a Partagas D4 and a Romeo y Julieta Churchills on a whim. We shared them together over a bottle of Jack Daniel's. It became really serious a bit later. I had strolled into the Ritz on a rainy day to drink a cup of hot chocolate at the Hemingway bar, and Colin Field introduced me to pairings. It became a habit with Michel Roth: we would meet up every Saturday to try different rums and whiskies…"
Alexandre Polmard smokes three or four cigars a day; almost exclusively Cubans with the occasional Sumatra Morning Churchill bought in Switzerland. "I start smoking at 8 or 9 am, with a mug of coffee when I go to see my cows." And otherwise? "Almost all the time. In the car, when listening to music: jazz, lots of Sinatra, American rap, Italian opera, and Céline Dion. During meals: I love smoking while eating meat. When drinking: bas-armagnac, Bollinger's Spécial Cuvée, a Lagavulin Isley malt…"
A devoted robusto smoker (Bolivar Royal Coronas, Hoyo de Monterrey Epicure N° 2, D4 Partagas and Pittbull), Alexandre Polmard buys cigars by the box from the Saint-Mihiel tobacconist, in Verdun; in Luxemburg; in airports; and in large cigar shops: "I feel them all, one by one. I can tell when the same torcedor has not rolled the whole box."
Only moderately interested in accessories ("I have two humidors, but I plan to get a chest with three or four draws. I have four cases, a S.T. Dupont Spectre lighter, as well as my Land Rover Spectre, and a little 19th century English dryer") he insists in cutting the cap off his cigars with a nail. Alexandre Polmard converted the elite of Saint-Germain-des-Près to the mouvant, the surprise steak, and offal – "from tongue to tail" – but he admits to enjoying nothing more than the company of his cows…
The Butcher's cigars
Alexandre Polmard recently started producing cigars in Honduras. They will be available in cigar shops at the end of 2017.
Boucherie Polmard
2, rue de l'Abbaye, 75006 Paris
01 43 29 76 48