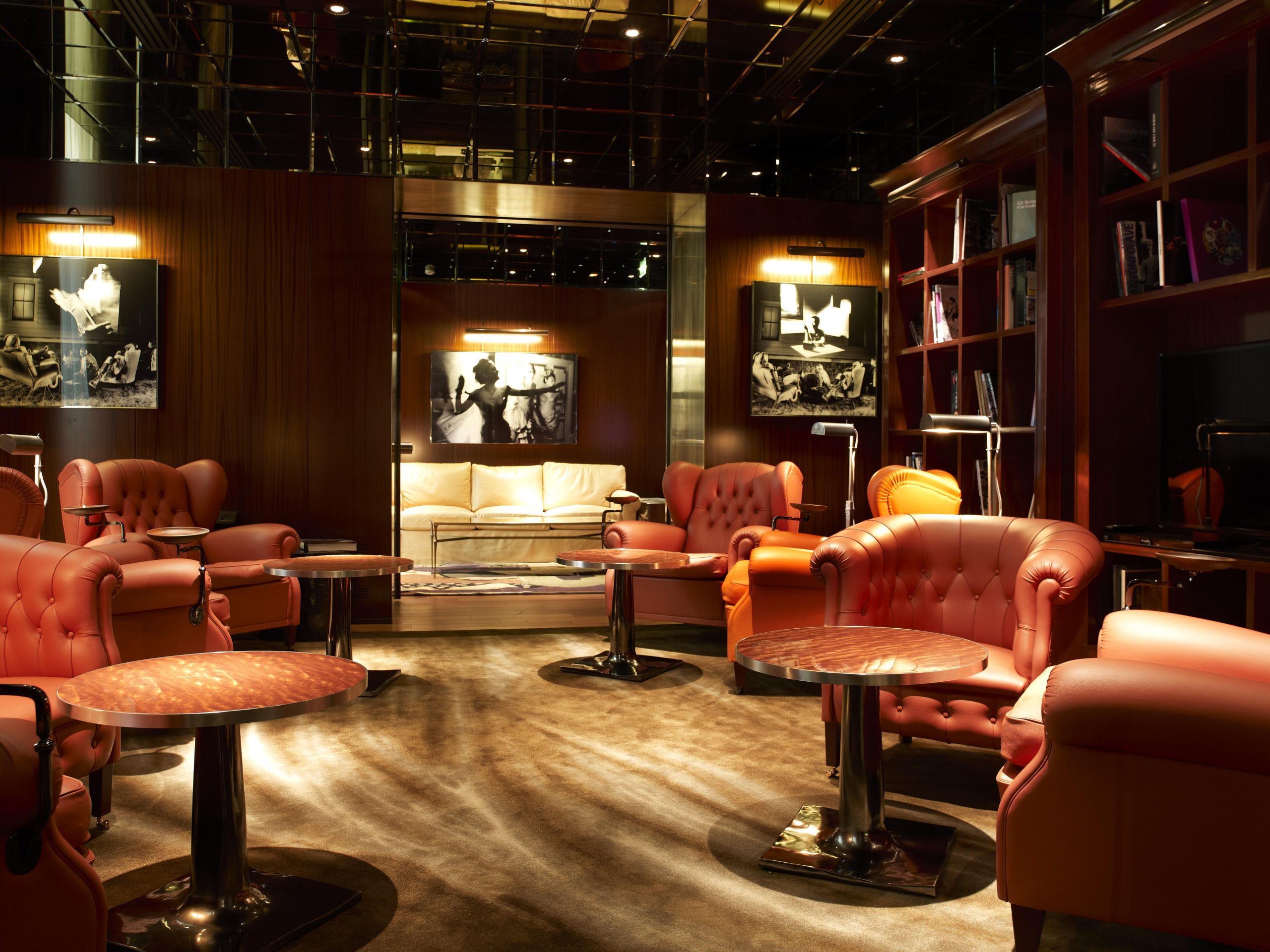 Where to smoke in Paris ?
Here is L'Amateur de cigare's selection of the best cigar lounges in Paris
By Laurent Mimouni
Champs-Elysées and Western Paris
Hôtel de Crillon
10 Place de la Concorde
75008 Paris
5-star hotel. Cocktails from 24 euros, spirits from 20 euros. Smoking room only for hotel guests. Reopened a few months ago after a complete renovation. For visitors, heated terrace available.

La Réserve
42, av. Gabriel
75008 Paris
5-star hotel. Cocktails from 28 euros, spirits from 20 euros. Smoking lounge only for hotel guests and people eating at the restaurant. Housed in a winter garden, a refined smoking lounge of 10 places, with a button on each table to call the waiter.
La Maison des Centraliens
8, rue Jean-Goujon
75008 Paris
5-star hotel. Entrance fee : 25 euros (including one drink). Elegant, furnished with club chairs, but a little darky. At the back of the property, the terrace is also cigar-friendly – and without access fee.
Hidden hotel
28, rue de l'Arc-de-Triomphe
75008 Paris
4-star hotel. Entrance fee (available 2 hours) : 25 euros including one drink. Free for hotel guests. 10 seats in an atmosphere of leather, steel and wood. Reservation required. Flat screen and free wifi.
Gentlemen 1919
11, Jean-Mermoz Street
75008 Paris
Barbershop and speakeasy. Cocktail from 12 euros, whiskeys and rums from 15 euros. At first glance, a trendy barbershop. But behind a back door, first a bar overlooking a small courtyard, then a secret smoking lounge. A "barbershop-bar-smoker": hard to find more original !
Royal Monceau
37, av. Hoche
75008 Paris
5-star hotel. Spirits from 20 euros. Without being totally inaccessible, Club Viñales is the most selective Parisian smoking lounge : 190 euros a day for two people, 3,000 euros for the three-month pass, 5,500 euros for six months, 9,500 euros for one year. Individual lockers.
Le Boudoir
25, rue du Colisée
75008 Paris
Restaurant (gourmet French cuisine). Meal (mandatory) from 60 euros. Seasonal dishes are served in an elegant room decorated with sculptures. The smoking lounges (eight seats maximum) is comfortable but a little tight.
La Belle Poule
18, av. Hoche
75008 Paris
Brasserie. Coctails and spirits from 12 euros, meals from 40 euros. Small smoking lounge or heated terrace on the street.
UC-61
4, rue de l'Arc-de-Triomphe
75017 Paris
Cocktail bar. Cocktails from 10 euros. The bar looks like a submarine. In the hold, a small smoking lounge to enjoy some nice cocktails.
L'Ogre
1, av. de Versailles
75016 Paris
Restaurant (French "bistrot"). Meals from 50 euros. Tiny smoking lounge (6-8 seats) only for restaurant guests. Allows you to conclude your meal with a nice cigar.
Le Belair
Maison de Radio France, 2e étage
116, av. du Président Kennedy
75016 Paris
Bar. House cocktails from 12 euros. Open from 7PM to 2AM every day except sundays and mondays. Live shows and concerts.
Hôtel Peninsula
19, av. Kléber
75116 Paris
5-star hotel. Minimum charge : 150 euros. Spirits from 24 euros. In a sleek style, the ten seats of the Lounge Kléber are installed under a fresco of the nineteenth century. Flat screen hidden in a piece of furniture for big event nights. Open only from 3PM to 2AM. Individual lockers for rent (4,200 euros / year).
Le Speakeasy
25, rue Jean-Giraudoux
75116 Paris
Restaurant and piano-bar. Every day from 7.30PM to 4AM, except Sundays and Mondays. Meals from 60 euros, not required to access the smoking lounge. Cocktails at 16 euros. Live music every night, plus a DJ on weekends. Chesterfield armchairs and soft light.
Bon
25, rue de la Pompe
75116 Paris
Restaurant (asian cuisine). Meals from 50 euros. The restaurant, whose chef claims Thai influence, was designed by Philippe Starck. The completely white smoking lounge is also designed by Starck. Garden in the beautiful season.
Left bank (Quartier latin, Montparnasse…)
The Butchers of Paname
9, rue de l'École-de-Médecine
75006 Paris
Restaurant (steakhouse).
Tapas from 10-12 euros, meals from 60 euros, spirits from 11 euros.
Smoking lounge to perfectly conclude the meal.
Cubana Café
47, rue Vavin
75006 Paris
Bar-restaurant (Cuban and Spanish cuisine). Free admission, except Fridays and Saturdays between 7 and 11PM (meals and reservations required on these days). Cocktails from 10 euros, rums and other spirits from 15 euros. This historic smoking lounge was, in the late 2000s, one of the first in the capital to comply with the anti-tobacco legislation. With twenty places and moderate rates, it is one of the best value for money in town. Club armchairs, palm trees and Che Guevarra portraits for a well restored Cuban atmosphere.
Casa Pelletier
101, rue du Château
75014 Paris
Bar (with high quality snacks). Spirits and cocktails from 12 euros. Minimum charge : 25 euros per person. One of the last-born Parisian smoking lounge. Twenty-five seats in a large room with a beautiful fireplace. English club atmosphere. Individual wet lockers for rent. Very nice place if you ignore the gruff welcome…
Bastille and Eastern Paris
Havanita
11, rue de Lappe
75011 Paris
Bar-restaurant (Cuban cuisine). Cocktails from 7.50 euros in "happy hours", spirits from 9 euros. Meals from 35 euros. Free access to the smoking lounge. Fifteen seats with comfortable armchairs. Open from 5PM.
Moonshiner
5, rue Sedaine
75011 Paris
Cocktail bar. Cocktails from 6 euros. Another "clandestine" bar, hidden at the bottom of a pizzeria; you accessed the smoking lounge through the door of the cold room. Unfortunately, the lounge is not really suitable for enjoying a cigar unless you manage to get a chair. Otherwise, you will have to settle for a stool …
Pachamama
46-48, rue du Faubourg-Saint-Antoine
75012 Paris
Restaurant (South American cuisine), bar and disco. Meal from 50 euros, but you can only come for a drink. The old "Barrio Latino" has been completely refurbished : dance floor on the ground floor, restaurant on the first floor, bar on the second floor and large smoking room on the third floor. If you are not repelled by a high volume of music and not afraid of being overrun by cigarette smokers, the place is for you. If you are looking for a more peaceful time, prefer the early evening, before diner. Skinny choice of spirits and uninspired cocktails.
Other spots in Paris and close suburbs
Le Derrière
69, rue des Gravilliers
75003 Paris
Restaurant (French cuisine). Meals from 60 euros (today's special from 19 euros). The meal is served in the original setting of a Parisian family apartment with Baroque decoration. After the meal, you will reach the small smoking lounge located in a secret room hidden behind a Norman cupboard upstairs.
Dirty Dick
10, rue Frochot
75009 Paris
Hawaiian cocktail bar. Cocktails from 7 euros. With its bench and a few stools, this smoking room is certainly not the most comfortable in Paris, but this "tiki bar" is worth the detour for its original cocktails and its Hawaiian atmosphere in Montmartre.
Les Orientalistes
4, rue Saint-Laurent
75010 Paris
Restaurant (Mediterranean cuisine). Meals from 40 euros. Smoking room of a dozen places reserved for the customers of the restaurant.
L'Île
170, quai Stalingrad
92130 Issy-les-Moulineaux
Restaurant (French cuisine). Meals from 50 euros (lunch : 25 euros). In a beautiful Napoleon III pavilion, the smoking room offers a shelter in winter, but in summer nothing forbids to enjoy the magnificent terrace in the middle of the park.
Café Renaud
58, quai Georges-Gorse
92100 Boulogne-Billancourt
Bar brasserie. Cocktails at 11 euros, meals from 40 euros. Not strictly speaking a smoking lounge, but a spacious and pleasant heated veranda with chesterfield armchairs. You can come for a drink or for a "bistronomic" meal.