A new Romeo y Julieta premiered in Germany
The Romeo y Julieta Cupidos (LCDH exclusive) was launched this Saturday, September 2 in a world preview during Habanos Day organized at Bückeburg Castle, Germany.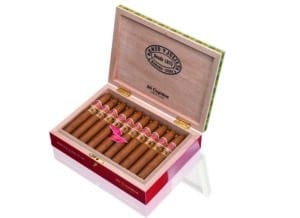 Announced during the XXIII Festival del Habano in February 2023 (without any samples being distributed), the Romeo y Julieta Cupidos was officially launched in Germany this Saturday, September 2, on the occasion of the Habanos Day organized by Fifth Avenue, exclusive distributor of Cuban cigars in Germany, Austria and Poland.
This brand new cigar reserved for Casas del Habano and Habanos Specialists is a figurado (148 mm x 55, veronas) presented in 20-count boxes. It will be marketed in Germany at 65 euros.
The country that organizes the global launch of a new Cuban cigar traditionally enjoys a period of exclusivity that can range from a few days to a few weeks.
Production delays
Once again, the relatively rapid arrival of this vitola, just a few months after their announcement, confirms the analysis we made upon returning from the Festival (see ADC English edition #12): Habanos SA, facing significant production delays (certain "new products" from 2021 or 2022 have not yet been launched), had chosen to concentrate its announcements on references already produced or in production.
The tastings of this new cigars will be available in the 2024 Havanoscope, to be printed in English for the very first time in Q4 2024.
Pictures : © Habanos S.A.