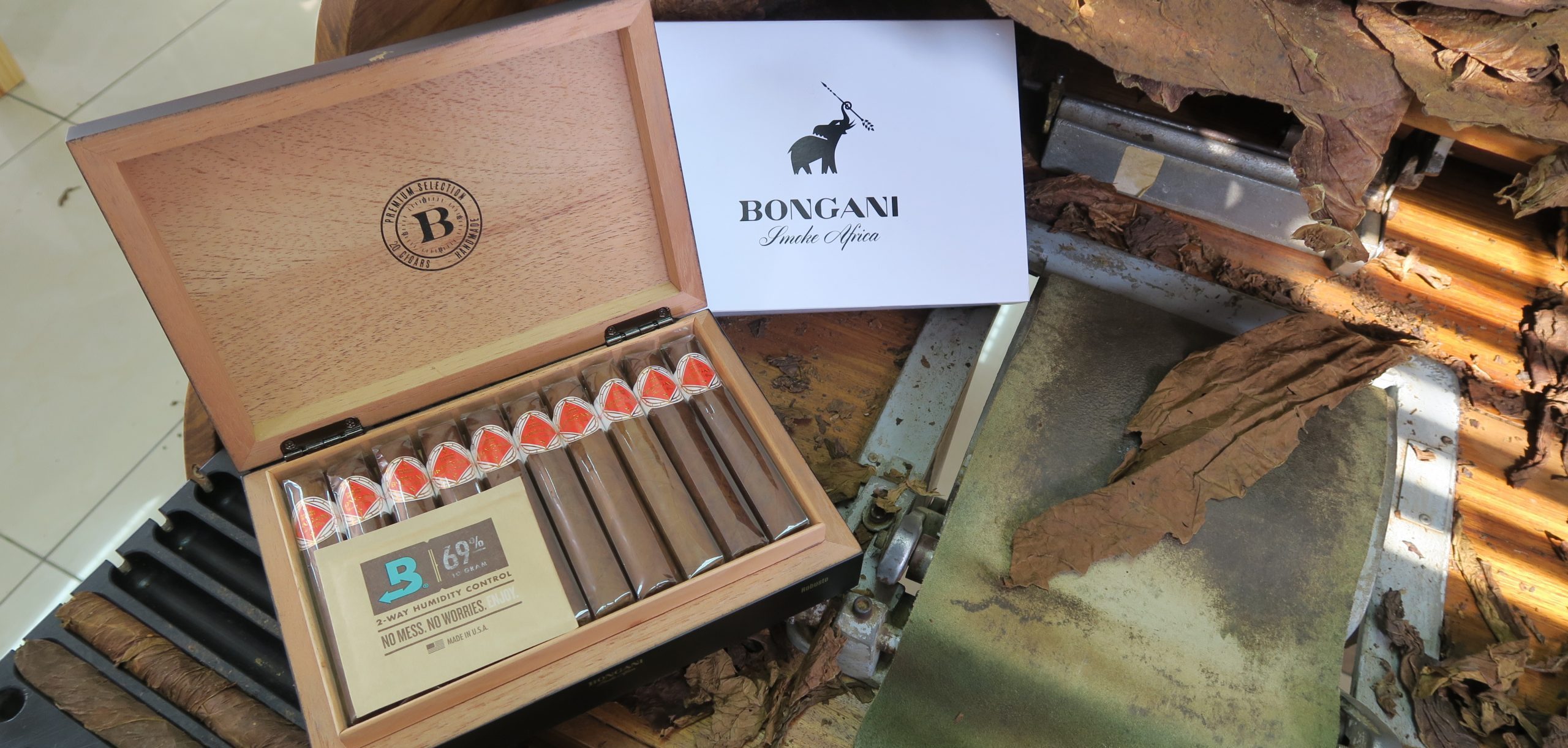 Bongani, the African cigar
The first cigars to be produced in Africa are starting to arrive on other continents. Made essentially with African tobacco, and rolled by an all-African team, they come from Mozambique.
Tom Bowker, our correspondent in Mozambique, reports from Maputo.
Africa's first cigar manufacturer is starting to export. After a first batch of Bongani Cigars landed at London Heathrow Airport at the end of 2020, Switzerland is about to become second European market to open its arms to the Mozambican brand. American consumers have been able to buy the brand for a few months now, with the first big order arriving there last November.
The company's factory, located in the Baixa district of Maputo, the capital of Mozambique, now produces 10,000 cigars per month. Based on an idea by Kamal Moukheiber, and under the supervision of Dominican production manager Anthony Padilla, a small team of Mozambican women roll locally grown tobacco.
Padilla arrived in Maputo on November 30, 2016. It was the first time he had left his native Dominican Republic, which Kamal Moukheiber had visited earlier in the year to recruit the talent he needed to get his plan for African cigars off the ground.
Lebanese by birth, and a graduate of HEC in Paris, Kamal Moukheiber worked in finance in London for 15 years before embarking on a real estate project in Mozambique. It was while reading a biography of Robert Mondavi – the American winemaker who established the wine industry in Napa Valley, California – that he had the idea of launching the first African cigar brand. He was ready to bring over an entire team from the Caribbean, but Anthony Padilla proved capable of training the whole team himself and launching production of the first Bonganis very quickly. "We sold our first cigar in December 2016," recounts Kamal Moukheiber. He also specifies that bongani Means 'be grateful' in Zulu.
The Mozambican employees that the two men hired were also "very quickly" up to speed. "I had allowed six months to produce a commercially acceptable cigar. It generally takes one year – some say five years – but the girls picked it up extremely quickly," explains Kamal Moukheiber.
Dressed in a Cameroonian wrapper
Apart from the two managers, the Bongani team is exclusively female. The two boncheras, Eugenia and Sonia, were the first to be hired. Then four rollers – Salomé, Rosa, Tina and Adriana – joined them a few months later. "It doesn't matter if their productivity is half that of comparable teams in the Dominican Republic," asserts the director. "We're not looking for volume; we're more interested in quality. Labor costs in Mozambique are low – the minimum wage is under €100 per month – we could hire more staff if needed."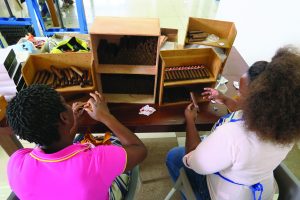 The cigars' filler is made up of mostly Mozambican tobacco, with a little Dominican tobacco for strength, flavor, and to improve the burn. Everything is covered with an African wrapper, grown in Cameroon, whose know-how in this field is well established. Kamal Moukheiber preferred not to say any more about where his tobacco comes from.
The boncheras, divided into teams of two working behind their desks, sort the tobacco leaves before rolling them into the required shape and length and then placing them in the molds. When the molds are full, Anthony Padilla puts them in the press for 2 to 3 hours, after which they are ready to be covered with the Cameroonian wrapper.
A maturation cellar in Ghanaian wood
The cigars spend two weeks in a fumigation refrigerator – a completely natural process, without the use of chemicals, Padilla assures us – then at least 21 additional days in the company's escaparate (maturation cellar), which is also 100% African, being made of Ghanaian wood.
The packaging (boxes of 10 or 20 units) is also made on site. "The production of cigars is just one of the company's facets," reveals Kamal Moukheiber. "The most difficult part is the rest: the logistics, the packaging… It took six months to find the right box. Everything must be at once perfect and future proof, and the logistics are crucial. How do you export cigars from Maputo to Nairobi? Cigars aren't just any product: tobacco is regulated everywhere. You can't just send it by mail or by transporter, you need loads of authorizations."
At this stage, most of their sales are still in the continent's largest countries – South Africa, Kenya and Nigeria – but Bongani cigars are now available in around 10 countries, with negotiations ongoing for more. "As well as the United Kingdom and Switzerland, European markets like France are much more strongly regulated, so they are not easy to penetrate for now," notes Kamal Moukheiber. "But we sent a big delivery to the USA at the end of 2020, and we even have sales in Japan!"
With around 10,000 cigars per month, Bongani is a small manufacturer on the global scale. "Obviously, compared with the Dominican Republic's big manufacturers, it's very small, but it's not negligible. We're on the radar; we're just a small dot for now, but we're there. The company is already profitable," Kamal adds. "But the bulk of the work remains to be done."
The ADC's Opinion

Bongani Cigars
Robusto
Made in Mozambique
Wrapper: Cameroon
Binder: Mozambique
Filler: Mozambique, Dominican Republic
127 mm x 50 (19.84 mm)
Particularly oily and sleek, the Cameroonian maduro wrapper makes a good first impression. After some woody and earthy notes in the cold draw, this African robusto kicks off with very smooth woody exhalations after a somewhat laborious start (the cigar is difficult to light). The draw is perfectly adjusted, and it burns smoothly. Spicier flavors soon appear, underpinned by meaty and silky smoke. The strength is constant at this point. The cigar then takes a turn, with earthy and animal notes (leather) while the strength builds gradually. After the halfway point, the progression of flavors is less spectacular, but it becomes more intense and the strength remains moderate. A satisfying finish with hints of cocoa and spices. A great quality cigar, full-flavored and aromatic, which makes us regret that they are not available in France. A word of warning, however; there are some rolling defects on certain cigars.
Rating: 4/5