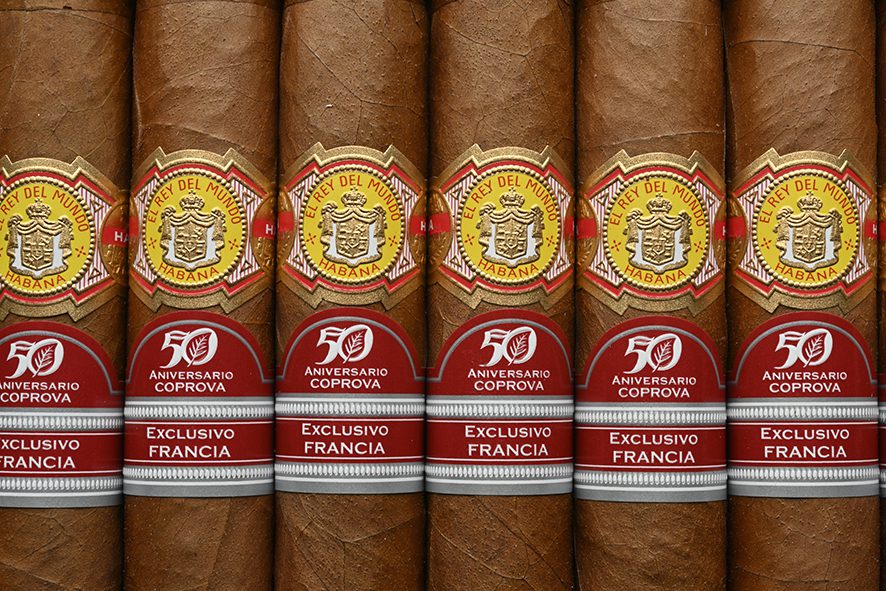 El Rey del Mundo L'Epoque RE France 2020 available this summer
The 2020 regional edition for France will be available this summer, announces Coprova, Cuban cigars exclusive distributor for France.
Unveiled in preview during the 26th Nuit de L'Amateur de Cigare last November, the El Rey del Mundo L'Epoque is the second 2020 regional edition for the French market, after the Quai d'Orsay Clemenceau, which is available since October. Like the Clemenceau, it comes with a special ring celebrating the 50th anniversary of Coprova, the exclusive importer of Cuban cigars in France.
Like all Cuban regional editions, this is a limited production. In this case, only 6,000 boxes of 10 units were produced, exclusively for the French market.
Smoking experience

El Rey del Mundo
L'Époque
Regional edition for France (2020)
Manufactured in Cuba
Wrapper, binder, filler: Cuba
164 mm × 54
Grand robusto (sublimes)
€26,50
This big cigar is dressed in a colorado wrapper. The ignition is airy, with flavors of dried fruit and a vegetal hint (nuts). The smoke, light in the mouth, quickly gains in thickness, and the draw is perfect. The strength is very moderate. Very well rolled, the cigar develops both woody and vegetal flavors.
Strength and persistency rise very slowly. The atmosphere is more brioche in the second third, even if the vegetable hints are still present. The notes of wood and warm bread dominate in the finish, while the combustion is a little disturbed.
This beautiful regional edition, reserved for the French market, light and suitable for all audiences, is faithful to the taste universe of the El Rey del Mundo brand. The lingering hint of greenness should fade after a few months in the cellar.
Rating: 4/5
Reviewed in the 2022 Havanoscope