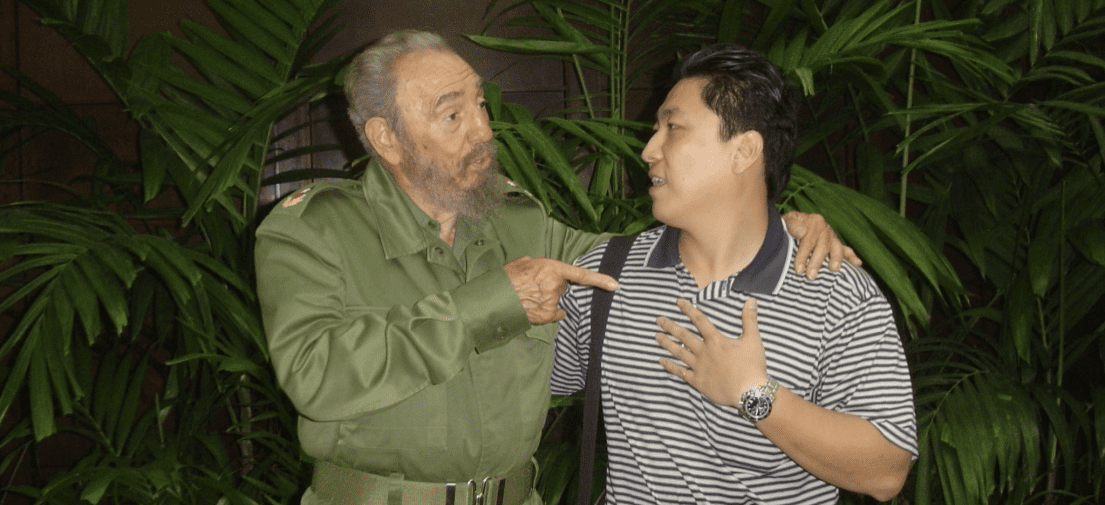 Cuban Cigars in China: It All Began with Ziqui
The son of Mao's official interpreter, Wang Zheng introduced the Chinese to Cuban puros. A cigar lover with a remarkable story.
Domitille Piron, correspondent in Cuba
"I remember that I was about three, and my mother would return from her travels with beautiful boxes decorated with animals drawing carriages. I was fascinated by these colorful objects, which were none other than El Rey del Mundo boxes – empty, of course!" recalls Wang Zheng, robusto in hand, ensconced in his leather armchair at the Havana Club in Havana. A regular here, he smokes a bespoke blend rolled specially for him by a torcedor from La Casa del Habano.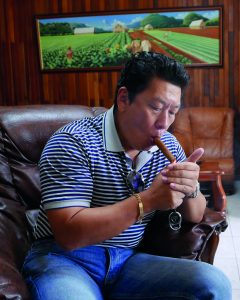 We met Wang Zheng (who calls himself "Ziqui" in Cuba) at Club Havana in Havana.
Zheng's mother did not smoke, but she received countless boxes of habanos in the 1960s, as cigars were commonly given as diplomatic gifts at the time. The young revolutionary Cuba was then establishing relations with Mao Zedong's Communist China, for which Mrs. Zheng was the official Chinese to Spanish interpreter. She worked as such during the first visit to China by a Cuban representative, Che Guevara, in 1960, and during Chinese delegations' many trips to Cuba, as well as Fidel Castro's state visit to China in 1995.
"My heritage and family history have brought me to where I am today," says "Ziqui", which is the Spanish name he chose for himself. Proud of his origins, Zheng followed in his mother's footsteps and read Spanish at university. "At the time, there were probably no more than 15 of us in the whole of China who chose this career," he says with a smile. He set off for Cuba in the 1990s to continue his education, first working in a travel agency, helping to develop tourism between the two countries while simultaneously learning about tobacco culture, which he found fascinating. He ultimately stayed on the island for 25 years!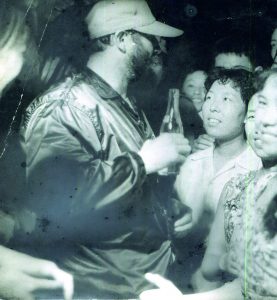 Mrs. Zheng with Fidel Castro during the visit of a Chinese sports delegation to Cuba in 1964.
The first smoking room in Beijing
More than smoking puros per se, what truly interests Wang Zheng is cigar culture: the people he meets, the atmosphere, the land, the brands, the rolling techniques and the chats with diplomats and dealers around a puro. "Cigars are great for bringing people together, and thanks to habanos, I have met a lot of very different and fascinating people."
As an enthusiast, he attempted to export this culture to China, and opened the first Cigar Club in Beijing in the late 1990s. With leather armchairs, humidors, Romeo y Julietas, Cohibas, Montecristos and suchlike, he tried to recreate the subdued, smoky atmosphere of a Cuban cigar club in the Chinese capital. He also exhibited the cigar boxes given to his mother by Fidel Castro. But as he now admits, "as a business venture, it was a failure. The Chinese weren't ready for it at the time. People liked it, they came, they took a look, they were interested – but nobody could afford cigars." Much to his chagrin, the first Beijing Cigar Club lasted only a year. The smoking lounge closed in late 1999, and Wang "Ziqui" Zheng returned to Havana.
At the time, both Cuba and Zheng were going through tough times. The island was emerging from the "Special Period in Time of Peace" just after the fall of the Soviet empire, which deprived it of its main financial support and plunged it into its worst economic crisis. Zheng, meanwhile, had gone bankrupt in China.
Naturally, the Cubans saw this fine puro connoisseur as an asset for developing the cigar market in China, and Habanos S.A. worked with him on a market study and media coverage of tobacco farming. "China is a market of 300 million potential smokers, but beyond actually smoking, the Chinese are increasingly interested in the culture surrounding tobacco, so we needed to inform them." And Wang Zheng excels at telling new Chinese customers and tourists he receives in Havana all about the history of Cuban tobacco – and only Cuban tobacco – as "it is quite simply the best in the world."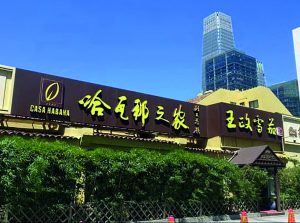 After the failure of his first shop, in 1999, Wang Zheng opened his Casa Habana Cigar Club in Beijing's business district in 2005.
The best cigar shop in China
But though the Cubans owe much to Zheng in terms of introducing the Chinese to Cuban cigars, what mainly triggered this growing interest was China's decision to open up its economy to the world in the 2000s. At the beginning of the 21st century, China's GDP growth was staggering, as was the rise in Chinese tobacco market: +700% between 2005 and 2018!
For Wang Zheng, investing in Cuban cigars meant taking a real risk. He was one of the few Chinese to learn Spanish and move to Havana, but his passion for Cuba and cigars has paid off and made him the go-to puro specialist in China. In 2017, he became the first Chinese person to receive Habanos S.A.'s annual "Hombre Habano" award.
After the failure of his shop in 1999, Wang Zheng launched a Casa Habana Cigar Club in Beijing's business district in 2005. Since then, he has consistently achieved the best sales figures for habanos in mainland China. His secret is that he offers an experience. "We don't just sell cigars, we tell a story. I'm more interested in customers who come to share something than those who come to buy." And in this shop, alongside the boxes given to his mother, he can also display the ones presented to him personally by Fidel Castro: a source of great pride.