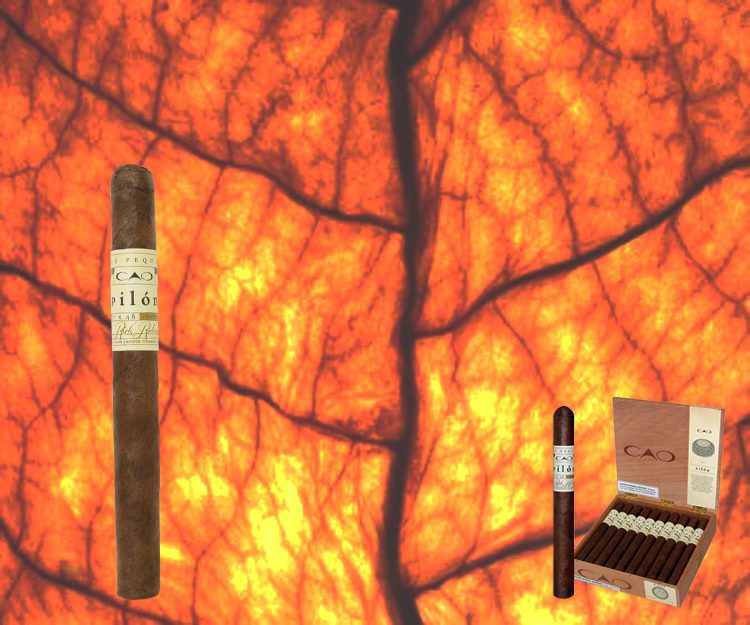 Headline cigar :  CAO PILON Churchill
The purveyor of many a fine smoke, CAO needs no introduction. A big innovator, this brand regularly launches very well-crafted and original ranges, each with a singular style and a refined concept. The result is sophisticated and attractive cigars that outlast their initial buzz and become classics. One of CAO's specialties is rooting out exceptional varieties of tobacco from all over Central and Latin America to create stimulating and original blends. And once again, we have fallen for the latest addition to the CAO Pilón range, the Churchill.
When it was launched in France, CAO's Pilon range featured just two formats, a robusto and a corona. Two new formats have now made an appearance: a gros robusto and above all, to our great delight, a churchill. With a blend of Ecuadorian and Nicaraguan tobacco, in our opinion the Churchill is the best of the bunch. The format is ideally suited to its powerful and aromatic blend, giving it perfect balance. All that for a very affordable price. More of the same please!

Wrapper: Ecuador
Binder, filler: Nicaragua
Dimensions: 180 mm × 48 (19.05 mm)
Format: Churchill
Price: €7.80
Appearance: A smooth and oily maduro wrapper
Draw: Good
Pre-light flavors: Cocoa, earth and gingerbread
Flavors after lighting:
First third: The start is lively, tasty and full-bodied, underpinned by plenty of smoke. From the very start, this Churchill sets the tone with a pleasant smoothness and marked woody tones with peppery hints. Then the first third gets progressively deeper with more organic scents of wet earth and underbrush. The burn is excellent, the ash compact and the mouthfeel very pleasant. Good, measured intensity.
Second third: More of the same in the second third: the pace is steady and the cigar keeps the same dark and elegant, rich and smooth personality until the end. The smoke, still just as full, is impressively refined. This Churchill is perfectly balanced, dominated by notes of dry earth and undergrowth. The mouthfeel is increasingly pronounced. An excellent, meaty, refined and satisfying third.
Final third: The strength builds up significantly in the final third. The smoke loses a little of its smoothness, becoming increasingly deep and meaty. The mouthfeel is intense. A hint of cocoa boosts the flavor profile, still dominated by organic and earthy tones. Well-balanced and harmonious overall until a vigorous finale, which overheats a little (common on this kind of format), with some roasted notes.
CONCLUSION:
The combination of a churchill format with a very rich blend is a real success. It produces a sophisticated, powerful and well-balanced smoke, despite a slightly overpowering finish. This Churchill, like all the other cigars in the range, offers an unparalleled wealth of flavors and a perky rhythm. Lacking a little mellowness in the finish, which stops it getting full marks. But it's pretty close. A must-have in the current format.
Flavor: 7/10
Strength: 8/10
Aftertaste persistence: 8/10
Rate : 4 (5)