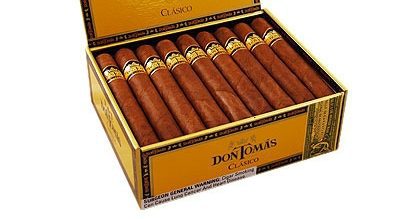 Don Tomás Clásico Rothschild: A great everyday cigar!
No, you're not dreaming – we've gone and done it. A big hit with the tasting panel, our Headline Cigar for this edition is a Don Tomás! With consistently average (although perfectly respectable) scores and attractive prices, Don Tomás makes honest, full-bodied, cigars that are unassuming but well-made and affordable. They are regularly among the bestselling hand-rolled cigars in France, and not just because of their price.
There is plenty for fans of rare and exclusive cigars in this edition (see next page), but this Don Tomás Clásico Rothschild – which many of us have very fond memories of – is comforting, easy to find (even during this period of scarcity), and the last few deliveries have been particularly good.
Make no mistake: this is not a cigar for a special occasion – and it's not the cigar of the year – but it is a great everyday cigar that you can smoke at any time of day. It is perfect with a coffee outside on a terrace, for example. And obviously, at this price, it would be foolish to turn your nose up at it.
Gabriel Valentin
DON TOMÁS
The Don Tomás brand was created in Honduras in 1975 by US Tobacco, which named it for the father of one of the company's directors. After gradually falling from favor at the end of the 1990s, the brand was acquired in 2004 by Swedish Match (now SDG), which decided to relaunch the brand with different lines – the Clásico, with mostly Honduran tobacco, and the Nicaraguan line – all well-made, entry-level cigars. Always boasting excellent levels of availability, this brand is mostly known by cigar lovers for its often very attractive prices, but it often overlooked by the most demanding smokers. And yet, certain lines have excellent, honest and coherent blends; you just need to know how to choose them – which is true for all brands, wherever they are from.

Wrapper, binder: Honduras
Filler: Honduras, Nicaragua,
Dimensions: 114 mm × 50 (19.84 mm)
Format: Robusto
Price: €4.70 (in France, Feb 1st, 2022)
Appearance: A fairly smooth and glossy colorado wrapper. Well crafted.
Cold draw: Wood, old drawer, dust, gray pepper. Excellent draw.
Smoking experience:
First third: Lights up full-bodied with a hint of bitterness that soon fades, replaced by unpretentious but pleasant woody aromas. Full-flavored smoke, which becomes meatier as you smoke through, although the flavor profile focuses on pronounced wood and notes of toasted hazelnuts. No great complexity, but this first third is rather enjoyable, well-balanced and full bodied!
Second third: The smoke, still full-flavored, becomes increasingly creamy. Woody notes continue to dominate. The excellent balance makes this a particularly appealing cigar. An aromatic second third; smooth but not too light, with an occasional, well-balanced hint of bitterness. The only hiccup is a somewhat irregular burn, although it does little to detract from our enjoyment of the cigar.
Final third: The cigar becomes slightly more aggressive. The strength builds up progressively. The smoke is still very aromatic, within nice roasted hints and a touch of underbrush. The cigar never loses its structure – it maintains its rank and character – proving that this is a well-made, if not particularly complex cigar. The finish heats up a little, but you can smoke it right down to the nub, which leaves some pleasant flavors in the mouth.
The ADC's Verdict:
This Don Tomás Rothschild is a nice surprise: you don't expect such a great smoke at this price. Unpretentious but multifaceted and well-balanced until a somewhat abrupt finish, it serves up aromatic, creamy, mild (nearly sweet) smoke. A quick and pleasant smoke. Perfect for smoking outside, this is a cigar that you can take with you wherever you go!
Flavor: 7/10
Strength: 7/10
Persistency: 7/10
Bands: 3 ½