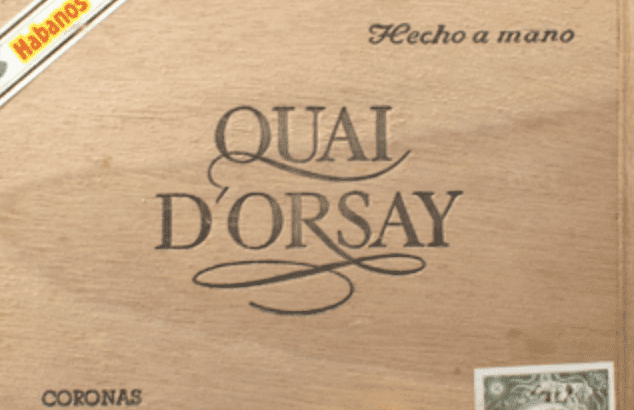 Quai d'Orsay becomes a strategic brand !
The most recent development is the most striking news of 2017 so far: Quai d'Orsay has been launched worldwide, with two new formats that join the Corona Claro, the only survivor of the old catalogue. But why ?
The idea for the brand originated in 1969, inspired by the French Minister of Finance at the time, Valéry Giscard d'Estaing. Developed in 1971 by Seita engineer Gilbert Belaubre and launched on the French market in 1974, Quai d'Orsay sadly never managed to make its mark. Worse: abandoned by French aficionados themselves, considered insignificant by Cuban producers, despoiled of nearly all its lines, until recently it seemed destined to disappear. "Is there a charitable soul who would like to save Quai d'Orsay from disaster?" wrote the Havanoscope seven years ago. It seems our call was heard: launched in 2012 with the Embajador – and strongly supported by Cigares de la Seita's director, Antoine Bathie – new regional editions for France have come out nearly every year since, saving Quai d'Orsay from the verge of extinction. Better yet, its success in France ended up titillating the Cubans. "The interest in these regional editions showed us that Quai d'Orsay has potential," acknowledges José M. López. About time.
A paradoxical turnaround in fortunes
But as well as this official recognition in the form of an amende honorable, the brand has another strength, and not an insignificant one at that. Its lack of success and renown means that foreign producers chose not to distribute it on American soil like other Cuban cigars. Nowadays, large tobacco groups have acquired the distribution rights for all Cuban brands from the families that owned them, or registered them in the USA. That's why we can find Partagas, Montecristo, and Romeo y Julieta cigars (made in the Dominican Republic and Nicaragua) in a country where Cuban imports are illegal. The Cuban state has fought a long legal battle to prevent General Cigar from using the Cohiba brand, but to no avail. Last year, the American supreme court denied the Cuban tobacco authority, Tabacuba, the right to defend itself in a court. Quai d'Orsay has no such issues. As the brand is not yet registered in the USA, the Cubans will be able to use it as they see fit when the embargo is lifted. Thus, this once-derided brand with a decidedly French-sounding name has become strategic.
A promising range
Dressed up in new clothes, adorned with an attractive, modern band, with a far more dense and expressive liga than in the past, the new Quai d'Orsay has everything it takes. The two new models (the N° 52 and N° 54) alongside a newly revamped Corona Claro make up an appealing little range of three sticks. They are hotly anticipated – and not just in France.
One must, however, temper our impatience. The new habanos presented at the Festival del Habano at the end of February won't be available on the market until the end of the year (at best), or the first quarter of 2018. Indeed, it's in June that the world's distributors place their orders, and it's only based on these orders that the production plan will be drawn up and that factories will commence production. Moreover, distributors don't immediately receive their order in full and some prefer to wait until they have enough stock to deliver all the cigar shops in their territory. Remember how long it took for the Cohiba Medio Siglo – launched in Havana in February 2016 – to arrive in France? All good things come to those who wait…