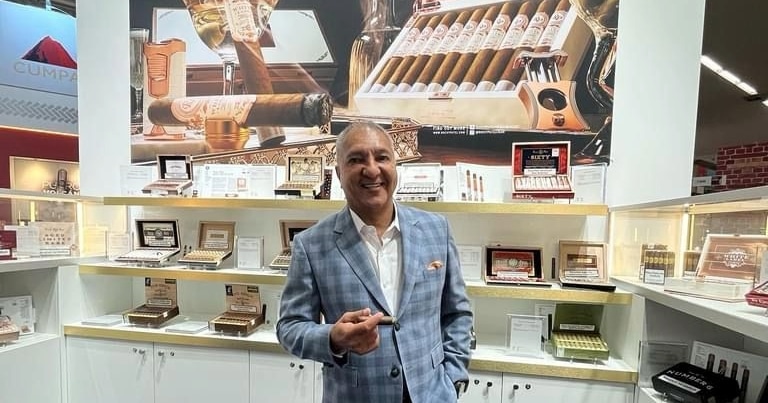 Rocky Patel : « We set a precedent in the world »
On August 9, a federal judge in Washington canceled the FDA's handmade cigar market regulation. Rocky Patel was the face of this fight which lasted almost eight years. We met him in the aisles of the Intertabac trade fair in Dortmund (Germany) on September 15.
L'Amateur de Cigare: What was your first reaction when you learned the victory against the FDA regulation?
Rocky Patel: I had tears in my eyes. I was so happy and I just wanted to hug my fellow friends like Jorge Padron and Carlito Fuente and all these guys. I was alone on a plane and I got a text message and I started crying and I didn't know what else to do. I was overcome with joy.
L'ADC: What is it going to change for you?
R.P.: It's been a monkey on my back for the last 8 years. I live, breathe and die this fight, both on the political side with Congress and Senate and also the legal side. Lawyers and reading tens and thousands of pages of documents and data and science and talking to epidemiologists, pulmonologists, doctors, getting the science and educating the lawyers on the science to fight the case. I was very, very confident but nobody ever believed that this could be done to win against a government agency in court, in science on a tobacco issue. I feel amazing. I've worked 26 years to build [my] company and I was scared that I would lose the company and this beautiful artisan industry would be gone forever, at least in the United States. It was a big fear and that's why I fought so hard to protect this artisan industry.
L'ADC: It is a victory for the whole industry, not only for your business?
R.P.: It is a victory for everybody. And let me tell you the truth: it was the family-owned companies that put all the money, all the time, all the effort to fighting this. And I was living this, I was spending 50%, 60% of my time for 8 years to fight this battle.
L'ADC: It's good news for companies that have most of their business in the US, of course, like you. But is it good news for European aficionados?
R.P.: Absolutely. I think we set a precedent in the world. Recently, we have just hired somebody in Europe to put together a plan and a lobbying group to approach the EU and the European Commission. We're putting together a white paper with all the science and data information that we've collected in the United States to apply it here to show the people, the leadership in the EU that premium cigars, handmade cigars are a unique product, different product than cigarettes or any other tobacco product. Children are not smoking them. We smoke them occasionally to celebrate, they're not habit-forming, they don't cause cancer or heart disease, they don't cause issues. So we're putting all this together and now we're going to come to Europe to actually educate the people in the EU Commission and the Health Departments to treat handmade cigars differently.
L'ADC: With this victory, the US market is still very attractive for you and the European market is much more regulated. Do you think European aficionados have to fear this victory?
R.P.: I think the most important thing is that everybody should protect the freedom and the right to smoke cigars. And we need the help of the consumers, all the cigar clubs in Europe, the press. We are going to engage with you because we have the science, we have the good news, we have everything. But we need the political power and we need the people to protect the rights. So we're going to reach out to all the social clubs, all the cigar clubs throughout Europe to participate in this joint effort to lower the taxes, to not have plain packaging, to not have TPD2 [Tobacco Products Directive #2], to not let the government treat you [Europeans] like an outcast. And so we want to work with all of you [European] together to protect this beautiful artisan industry because it's important, because it's simply a matter of education. If you educate with knowledge, with science, the government and the people that are making the rules, then they will understand that handmade cigars are quite different, very different, distinct luxury lifestyle product that should be protected and allowed to be smoked in a very safe way.
Interview: Laurent Mimouni