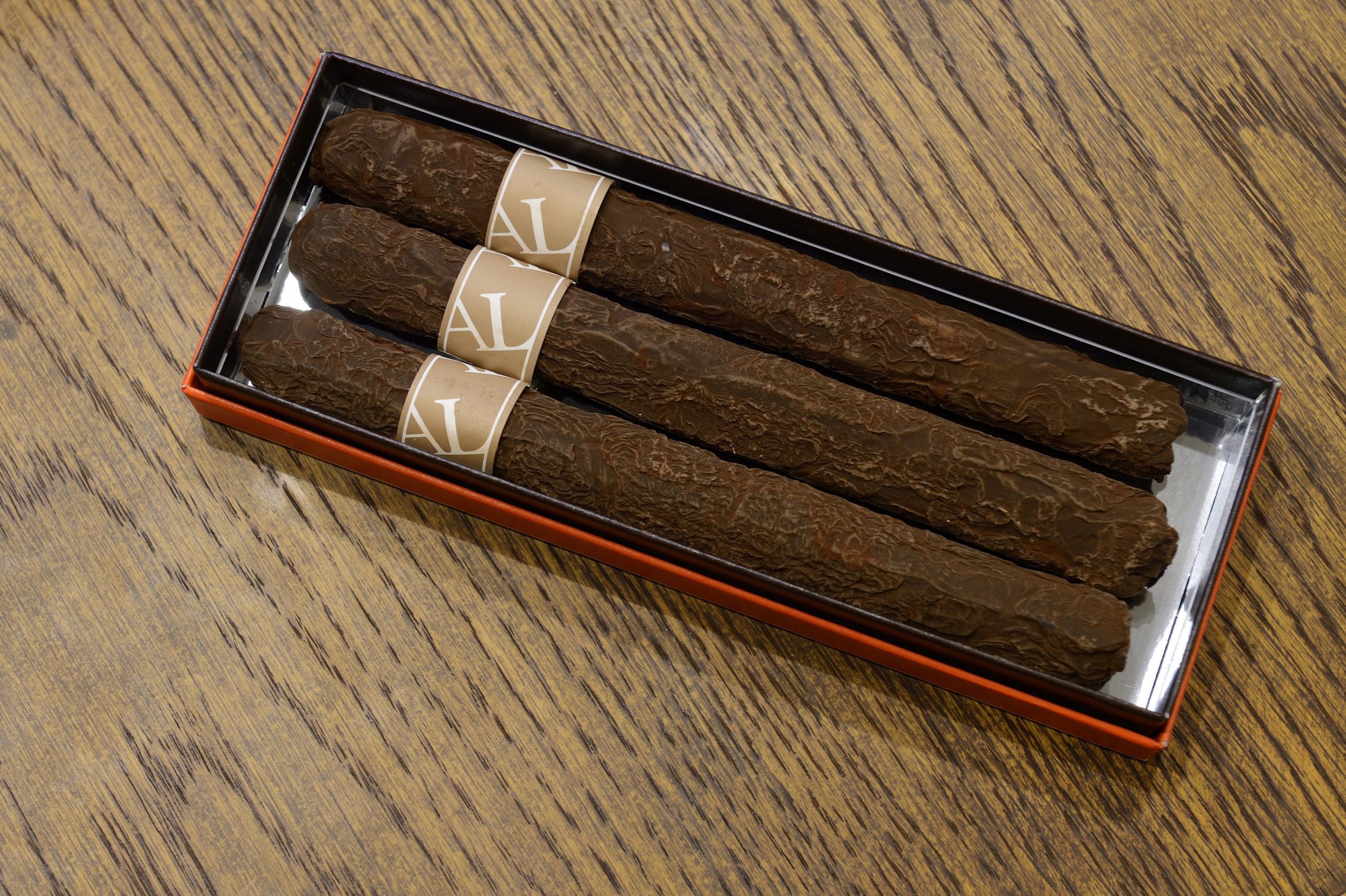 The pastry Arnaud Larher's cigars

Pastry chef and chocolate-maker, Arnaud Larher, divides his time between Athens and Tokyo. But it's in his workshops in the 18th arrondissement of Paris that he tweaks his recipes and dreams up his creations, like his chocolate cigars that are a big hit with aficionados!
One doesn't venture into the creation of pastry chocolate cigar without having a certain affinity for the world of cigars. Habano aficionado, Arnaud Larher, admits he has a penchant for Partagas, Montecristo and Romeo y Julieta, but he has particular soft spot for Ramon Allones' Specially Selected: "The flavors are extraordinary." Indeed, it was while smoking one of these robustos that he had the idea of creating a chocolate cigar.
"There is a similarity between the tobacco bean and the cocoa bean; and cigar production is not so different to chocolate. There are also similar flavors. The bitterness, a little underbrush from the cigar leaves; flavors reminiscent of chocolate that are both very subtle and very pronounced. Like tobacco, chocolate has a multitude of aromas, with toasted or spicy notes, depending on where it comes from. And as cigars are made with several types of leaves, I also use several varieties of chocolate."
A pure chocolate liga
So, what is the liga of these Larher "cigars"? A blend of three types of chocolate, which contain between 70 and 75 % of cocoa, a ganache made with crème fraîche in the role of the filler, and chocolate sprinkled with cocoa for the wrapper. The chef wanted his creation to reveal as many flavors as a good habano.
"Whether you're talking about cocoa, cigars, coffee, or even wine, the material is different but their character is determined by their provenance. You need to understand them and find the right harmony. I chose two types of chocolate from Venezuela, one very bitter chocolate that is cultivated at high altitudes, and another milder but very aromatic variety that is cultivated in the plains. The third variety comes from Colombia. I wanted distinctive chocolates with character, a little acidity and an aftertaste. Like with cigars, you need to elicit emotions within the first few seconds."
It took Arnaud Larher countless hours of work to develop his recipe and create an esthetically pleasing product. "I needed to think of an idea, try it out, and start all over again… Chocolate is not an easy mistress; you need to constantly work on your recipe until it's right. It took me about three months. If you don't understand chocolate, you can never bend it to your will. It decides. You need to let it breathe, leave it alone in a corner and come back two or three days later. The different cocoas meld together; the taste changes and evolves."
Like real cigars
The visual appearance is important too. "I wanted them to look like real cigars. The veins of the wrappers needed to be perfect, natural. I tried several techniques and, in the end, what worked is coating the cigar with chocolate and rolling it in cocoa powder on a vibrating table. The vibrations – the repetitive movement from left to right – create the little veins. A slight relief that's realistic but not too pronounced."
Whether it be tobacco or chocolate, pleasure is his watchword. "When you smoke a cigar, or when you try one of mine, you need to take your time. Find a good armchair in a peaceful environment. Bite into it, let it melt gently in your mouth; you'll see, the flavors will gradually reveal themselves." You could also serve yourself a glass of cognac: "It's a magical combination," he elaborates. "The flavors of cognac and chocolate go together well, they're not in competition. The ideal blend."
Originally an idea for father's day, the cigars are now available all year round in boxes of three that are perfect for sharing…
Box of three cigars, €24 (store at room temperature).
Arnaud Larher, 53, rue Caulaincourt and 57, rue Damrémont, Paris 18th arrondissement; 93, rue de Seine, Paris 6th arrondissement.