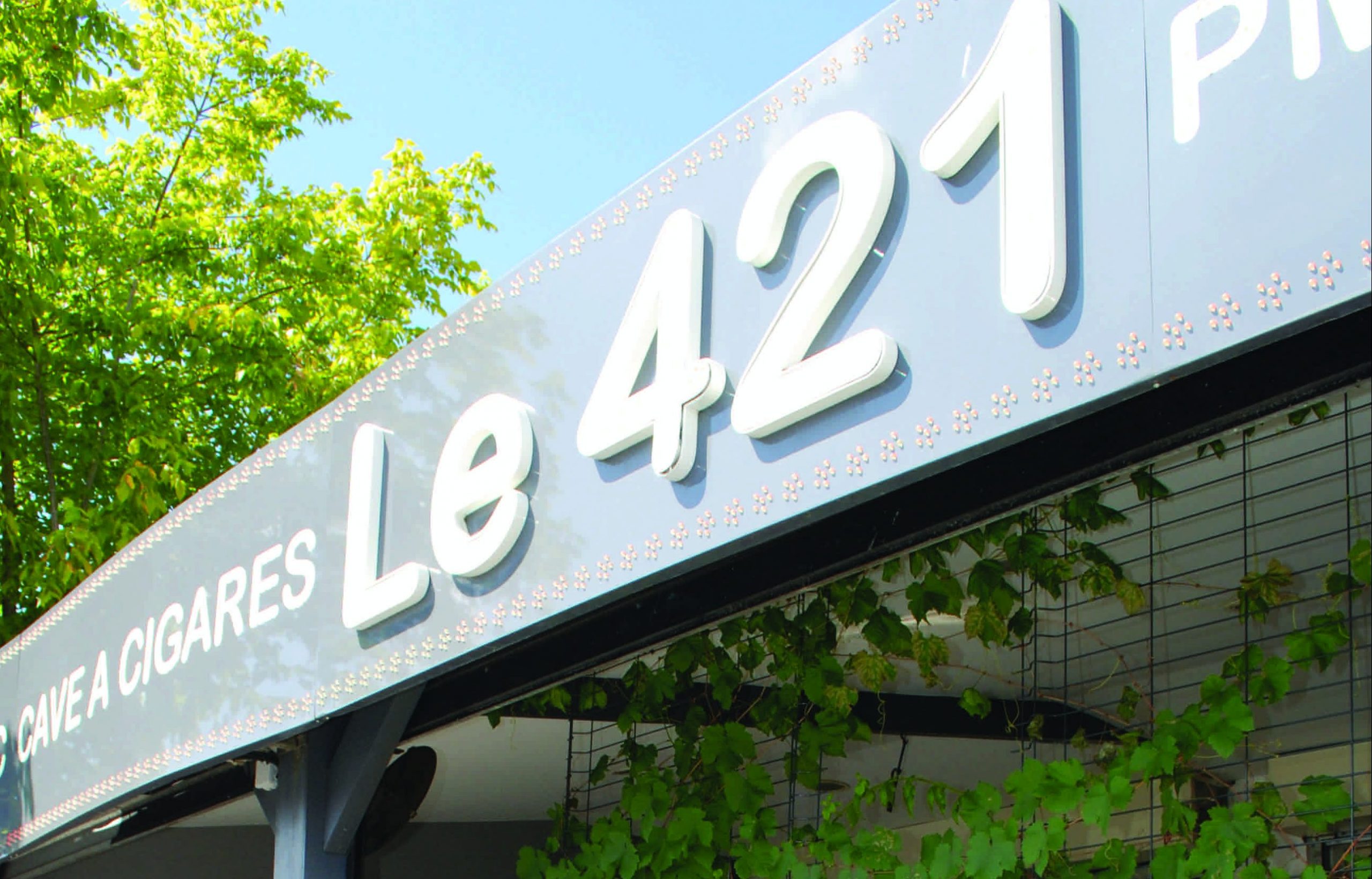 Le 421: Bordeaux's winning cigar shop
Within the space of a few years, this Bordeaux brasserie has become the favorite cigar shop of aficionados in the south-west of France. Its rise to prominence has been meteoric.
Eric, Angelina and Donato Cattellani have the sing-song accent and repartee typical of people from the South of France. In four years, this Corsican family has turned its tobacconist-brasserie, Le 421, into the meeting place for all aficionados in the South-West. When they bought this establishment located on the outskirts of Bordeaux in 2011, the Cattellanis had never sold cigars before, but their predecessor informed them that many customers asked for them. Eric's wife, Angelina, who is fond of cigars, set to work: she installed first one cabinet, and then another. Six months later, the establishment had no fewer than four cabinets. Two years after that, Eric opened a cigar lounge. Little did he know that a mini revolution was about to shake up the Bordeaux cigar-smoking community: the closure of the famous Régence…
450 varieties of Cuban cigar
To fill the void, most of the aficionados who bought their cigars on cours du XXX-Juillet now head to chemin d'Eysines. "If I'd known that La Régence was going to shut up shop I'd have built a bigger cigar lounge," admits Eric with a hint of regret. But the cigar shop is far from cramped and has more than 450 different cigars for sale. Every cigar-producing region is represented, although there is a notable bias towards Cuban cigars. "Bordeaux remains very Cuban: the Magnum 54, the Hoyo de San Juan and Ramon Allones' robusto are amongst our best sellers," points out the owner who knows his customers like the back of his hand (many have become his friends).
To be enjoyed on the spot
Another winning feature of Le 421: the brasserie has plenty of outside seating. A godsend for aficionados who head to the cigar shop after lunch to round off their meal with a smoke. "Like in the good old days," you might say, when smoking a cigar after a good meal was the norm. And that's how the Cattellanis became the biggest cigar sellers in the whole South-West. This also explains why the cigar shop is always well-stocked. Le 421 never suffers from shortages, not even in the case of exceptional cigars like Behikes, which sometimes provoke irrational reactions. "One day a customer offered to buy my entire stock at double the price! I refused. That's not the way I do business," quips Eric with a smile.
For advice, aficionados can also count on their son, Donato. Twenty years old and already a connoisseur, he is as well acquainted with the vintage brands as he is with the new regions. He started smoking as a teenager and cigars have become a real passion for him. He shares this passion with his family of course, but also with all the clubs in the region, who have found a second home at Le 421. As have the proprietors of châteaux in the area who come to savor vintage wines and puros, and enjoy the company of fellow terroir enthusiasts.
Le 421, 69, av. de Saint-Médard, 33320 Eysines. Tél. : 05 24 60 38 64. www.brasserie421.fr